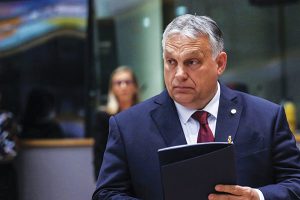 Bloomberg
Hungary's defense minister said an overhaul of senior-level military brass was underway in the NATO member state, which he called necessary to open the way for a new generation of leadership.
The timing of the changes — with war raging on in neighboring Ukraine — has sparked criticism from opposition ranks that see it as an attempt to reshape the military's top brass into one more loyal to Prime Minister Viktor Orban, who has spent over a decade consolidating power.
Defense Minister Kristof Szalay-Bobrovniczky said the aim was to make room for younger soldiers with international experience and language skills to ascend the ranks. They will be better placed to oversee the expansion of the armed forces as Hungary accelerates its military modernization plans amid the regional conflict, he said.