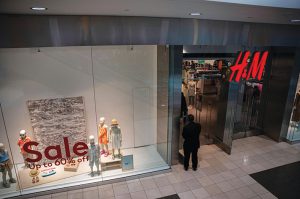 BLOOMBERG
H&M's revenue growth unexpectedly ground to a halt as shoppers turned away from the Swedish retailer, which has been raising prices while rivals  offer bottom-dollar discounts.
Sales growth was flat in constant currencies during the three months through August, missing analysts' estimates. The low-cost fashion retailer has been allowing prices to creep up lately, according to RBC analyst Richard Chamberlain. He said H&M's UK prices are only 10% below average lately, while the retailer offers a discount of about 20%.
Shein has been grabbing market share from major clothing retailers with hard-to-beat offerings such as $1.20 mesh bodysuits and $2 tube-tops. Since it launched, the company has been facing questions about how its products, which mostly made in China, are produced and under what labour conditions. H&M said it prioritised profitability and reducing inventory levels during the quarter over sales growth, and it's working to reach the goal of a 10% operating margin next year.