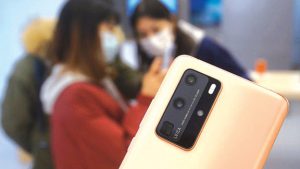 Bloomberg
Global smartphone shipments suffered their worst quarterly drop on record in a clear sign of cooling consumer demand that signals more pain for manufacturing hubs like South Korea and Vietnam.
Shipments declined 18.3% in the December 2022 quarter compared to a year earlier, to a little over 300 million units, Needham, Massachusetts-based IDC said. For the year, shipments fell 11.3% and marked the
lowest total for a decade, the researchers said.
Turmoil in Apple's main Chinese production base may have disrupted shipments in the quarter. Protests over Covid restrictions and living conditions at the Zhengzhou complex that makes the majority of the world's iPhones derailed production for weeks, culminating in violent protests in December.
Smartphones are among the largest exports for Korea and a key source of income for Vietnam as Samsung Electronics Co. operates factories in both countries. Samsung last quarter reported its biggest profit fall in over a decade, primarily led by a drop in demand for semiconductors. The company's exposure to smartphone sales is amplified by its role as the leading provider of memory and displays for the industry.
Mobile gadget sales serve as a barometer of demand for chips. Korea's smartphone shipments are likely to eke out just 0.7% growth this year after falling 2.1% last year, according to a Korea Development Bank forecast.
Chip exports from the country will probably contract 9.8% from a year earlier in 2023, it said, adding to earlier suggestions that a recovery in demand shouldn't be expected until the tail end of the year.