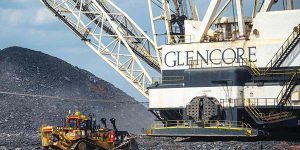 Bloomberg
Glencore Plc will return an additional $4.45 billion to shareholders in dividends and share buybacks after first-half profit more than doubled to a record thanks to surging coal prices.
Glencore, the world's top coal shipper, has been one of the biggest winners from the global energy crunch as demand surges for fossil fuels. The company's sprawling trading business has cashed in on dramatic price swings across markets from metals to oil following Russia's invasion of Ukraine.
Glencore's bumper profits and returns set it aside from mining rivals, which have reported falling earnings and reduced payouts as commodities like iron ore and copper retreat.
The company has typically lagged behind the pack in recent years because it doesn't produce any iron ore — a key profit driver for mega miners BHP Group and Rio Tinto Group. Now, Glencore has the advantage after opting to stick with its coal business while other producers
retreated from the dirtiest fuel.
First-half core profit rose to $18.9 billion, including $9.5 billion from the unit that produces coal — more than entire business made a year earlier. Coal has soared to records this year as utilities curb imports from Russia due to the war in Ukraine, tightening the amount of available supply, while surging natural gas prices increase demand for other energy sources.
The company joined its bigger rivals warning of growing headwinds in demand for its key commodities, but said energy prices will stay high.
Glencore's trading unit earned a bumper $3.7 billion in the first six months of the year, well above the top end of its guidance for the full-year, as soaring prices and volatility
create arbitrage opportunities.
Still, those bumper trading profits came at a short-term cost — the company said it invested an extra $5 billion in the trading business, reducing its firepower for shareholder returns. While surging commodity prices have helped fuel record profits for trading houses, the big daily swings have also become a liability, leading some small players to reduce their
exposure.
Glencore said that it would top up its dividend by $1.45 billion and buy back a further $3 billion in stock.
Glencore is able tap its vast balance sheet and credit lines, but the company cautioned last week that the trading unit's working capital needs had jumped, as it becomes more expensive to finance the shipment of commodity cargoes, and exchanges and brokers require additional cash to place and maintain hedging trades.
The company posted an additional $2 billion in initial margin during the period, but is working on a plan to free up $800 million of that by the end of the year, said Chief Financial Officer Steve Kalmin.
Glencore said that it would top up its dividend by $1.45 billion and buy back a further $3 billion in stock. Forecasts for shareholder returns had varied sharply ahead of the report, as analysts weighed expectations for bumper earnings against last week's notice on working capital.