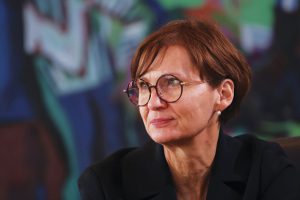 BLOOMBERG
Germany will send a federal minister to Taiwan for political talks for the first time in 26 years next week, a trip which could anger the government in Beijing at a time of growing tensions between China and Europe.
Bettina Stark-Watzinger, who oversees the education and research portfolios in Chancellor Olaf Scholz's ruling coalition, plans a two-day trip to Taipei, a spokesman for her ministry said on Friday at the regular government news conference in Berlin. The visit will focus on expanding research cooperation in computer chips, green hydrogen and batteries, the spokesman said.
The trip by Stark-Watzinger, a member of the liberal, pro-business Free Democrats, comes amid discussions among senior members of Scholz's cabinet about how Berlin should position itself in light of China's increasingly assertive stance on Taiwan.
Scholz's chief spokesman, Steffen Hebestreit, stressed that Germany's "one-China" policy has not changed and highlighted "regular and close contact" with the Chinese leadership.