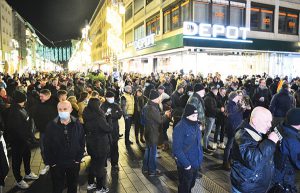 Bloomberg
German Chancellor Olaf Scholz pushed through tighter social-distancing restrictions to stave off the threat of a "massive" surge of the omicron Covid-19 variant just as families gather for the Christmas holidays.
The latest measures, which add to existing curbs that mainly affect the unvaccinated, include limiting gatherings to 10 people starting from December 28.
The restrictions, which Scholz negotiated with regional leaders, also apply to those who are inoculated or have recovered from the virus.
"We can't close our eyes to the next wave that's beginning to appear in front of us," Scholz told reporters in Berlin after meeting the country's 16 state premiers. The chancellor said Germans should celebrate Christmas, but cautiously.