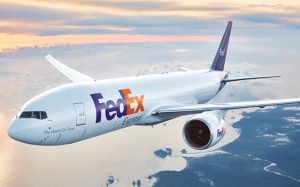 BLOOMBERG
FedEx Corp's shares climbed after the courier boosted its profit outlook, signalling efforts to cut costs are helping counter a decline in package volume.
Adjusted earnings this fiscal year will be $14.60 to $15.20 a share, up from a prior forecast of no more than $14, the Memphis, Tennessee-based company said in a statement. Analysts were expecting $13.57 on average, according to estimates compiled by Bloomberg.
"We've continued to move with urgency to improve efficiency, and our cost actions are taking hold, driving an improved outlook," Chief Executive Officer Raj Subramaniam said in the statement. FedEx also revealed third-quarter profit that topped Wall Street's expectations.
Shares of the company jumped more than 10% in postmarket trading in New York. The stock gained 18% this year through the close, well ahead of the S&P 500 Index's increase.
Subramaniam has sought to cut costs and strengthen operations in response to weaker package volume as people return to stores and spend on more services following the pandemic. He previously ordered savings of up to $3.7 billion from its original annual spending plan, including shedding 10% of top management jobs.
While the cuts have been across the board, the brunt of them have fallen to Express, the company's largest unit. The courier has reduced flights and parked older planes as customers shift more cargo back to ships after supply-chain snags have eased. Volumes have also dropped at the ground unit and FedEx Freight, the company's trucking company.
Although demand has softened, FedEx has been able to maintain robust pricing, especially for ground deliveries, and had announced a general rate increase of 6.9% for this year, the largest such increase in its history. Adjusted profit in the third quarter was $3.41 a share, FedEx said, beating the $2.71 average of analysts' estimates.