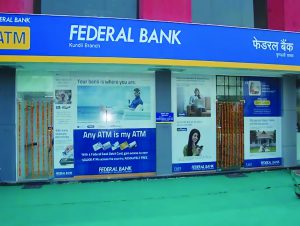 BLOOMBERG 
Federal Bank Ltd, the Indian bank backed by the International Finance Corp (IFC), plans to raise as much as 40 billion rupees ($486 million) in the next few months to support its expansion.
The fundraising could be via debt or equity, or a combination of the two, with the final structure still under consideration, the bank's Chief Executive Officer Shyam Srinivasan said in an interview. The capital will fund growth as Federal Bank pushes further into retail banking with plans to open about 100 branches this year, and seeks to buy a microfinance company, he added.
The bank expects to grow its balance sheet by 18% to 20% this year, consistent with gains in previous years, Srinivasan said, adding he intends to focus on unsecured retail and commercial loans. The planned fundraising, which has gotten approval from shareholders, may be at one go or in several tranches, he said.
In India, where deposit growth has lagged the surge in credit demand, banks have been competing fiercely for this cheaper source of funding by raising rates and rolling out more products. Federal Bank has tapped the Indian diaspora, and its relationships with fintech partners to increase its depositor growth, according to Srinivasan.
About a fifth of $90 billion of remittances from Indians who live and work overseas were routed through the bank last year, with 10% of that amount remaining at the lender as deposits, Srinivasan said.