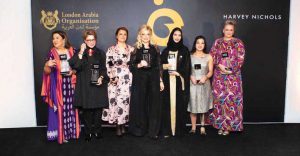 LONDON / WAM
The Arab London Foundation awarded Sheikha Fatima bint Hazza bin Zayed Al Nahyan, Chairwoman of the Board of Directors of the Fatima bint Mubarak Ladies Sports Academy and the Fatima bint Hazza Cultural Foundation, the Arab Woman Award 2023, in recognition of her outstanding achievements and efforts in empowering women in various fields, especially cultural and sports.
Sheikha Fatima bint Hazza bin Zayed Al Nahyan received the award in the culture category during a ceremony held in London, UK, to present the annual Arab Women Awards in its eighth edition under the theme "Tell Her Story," in tribute to her initiatives and successful endeavours in promoting the role of women.
Sheikha Fatima bint Hazza Al Nahyan has been nominated for this award for her pioneering role in the cultural scene within the country and the region. She launched initiatives to provide access to education in affected areas in Bangladesh, built schools in Kenya, and established the Fatima bint Hazza Fund for Emirati women to enable them to pursue higher education at prestigious universities worldwide.
Sheikha Fatima also launched several initiatives for young people through the Fatima bint Hazza Cultural Foundation, which focuses on art, literature, sustainability, and community interaction. It is worth noting that the foundation is also launching a series of short stories for young people that focus on culture, local identity, and sustainability.
The Arab London Foundation praised Sheikha Fatima bint Hazza's active role in empowering women in various fields, saying, "Sheikha Fatima bint Hazza bin Zayed Al Nahyan is committed to enhancing the role of women in various ways, as she is a supporter of sports and arts, and we are honoured to bestow her with the Achievement Award in Cultural Development."
In her speech during the ceremony, Sheikha Fatima bint Hazza greeted Arab women, considering that "this ceremony is a celebration of women's ability to excel, succeed, and contribute positively to the world."
She also thanked His Highness President Sheikh Mohamed bin Zayed Al Nahyan, and His Highness Sheikh Mohammed bin Rashid Al Maktoum, Vice President and Prime Minister of the UAE and Ruler of Dubai, for their keenness to encourage women and provide them with all they need to play a positive role in society and achieve their dreams.
Sheikha Fatima bint Hazza added that "effective participation and making progress and positive change are the core values that we have been raised on. I am proud to represent my country, the UAE, where women have not had to struggle to obtain their rights, but have always been at the forefront since the establishment of the state."
Sheikha Fatima bint Hazza Al Nahyan stated that our founding father, Sheikh Zayed, instilled in us the idea of dreaming without limits and contributing to society through knowledge and good treatment. He believed that women are not only half of society but also the creators of future generations. He was ahead of his time in recognizing the role of women, even before advanced countries began to develop strategies related to this role. The presence of ten female ministers in the UAE government is evidence of gender equality in the country.
Sheikha Fatima bint Hazza Al Nahyan expressed her gratitude to her great inspiration, Her Highness Sheikha Fatima bint Mubarak, the "Mother of the Nation," President of the General Women's Union, Chair of the Supreme Council for Motherhood and Childhood, and Chair of the Family Development Foundation. Sheikha Fatima is continuously inspired by her strength and immense interest in women's social and governmental affairs.
Sheikha Fatima bint Hazza Al Nahyan concluded her statement by saying that her father, Sheikh Hazza bin Zayed Al Nahyan, Deputy Chairman of the Executive Council of Abu Dhabi, never stopped believing in and supporting her until she reached where she is now. He is one of the many male supporters of women in the UAE.
It is worth mentioning that the Arab London Foundation Award aims to highlight the successes of Arab women and honour distinguished women who have made a positive impact in the fields of education, literature, culture, media, entrepreneurship, science, community service, and more.
The Arab London Foundation launched the Arab Women's Award in 2014 in collaboration with the Mayor of London, government institutions, and British universities to show great appreciation for the achievements of Arab women worldwide.