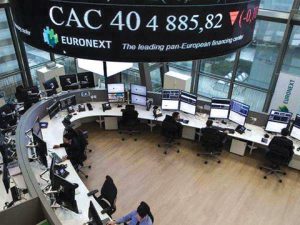 Bloomberg
European stocks declined on Tuesday, trimming one of the best starts of the year ever, as investors brace for expected interest rate hikes from central banks in the coming days, while also digesting earnings from large lenders.
The Stoxx Europe 600 Index was down 0.2% by 9:14 am. Real estate and financial services retreated, while banks outperformed.
In a busy day for the banking sector, Swiss lender UBS Group AG retreated even after reporting fourth-quarter profit that beat expectations and saying it plans to buy back more than $5 billion of shares. Swedbank AB gained after reporting better-than-expected profit in the fourth quarter as income from lending surged on the back of higher interest rates.
Investors have been taking profit on one of the best starts to a year for European equities, during which the region has strongly outperformed US peers. The Stoxx 600 Index is still about 7% higher this month, set for the biggest January gain ever besides 2015, on hopes of easing inflation and declining gas prices, as well as China's economic reopening. The Euro Stoxx 50 gauge is up nearly 10% in January, in the best debut to a year on record.
Money managers are now looking ahead to policy decisions from the European Central Bank, Bank of England and US Federal Reserve, as rate setters push on with efforts to tame inflation. Data also showed Spanish inflation unexpectedly quickened in January, ahead of the ECB's update. France avoided a contraction at the end of 2022, allaying concerns of a downturn in the euro zone's No. 2 economy after data Monday revealed an unexpected downturn in Germany in the final three months of the year.
Meanwhile, some investors fear significant earnings downgrades could follow as a recession takes hold.
"We do think consensus numbers are lagging behind," said Sutanya Chedda, a European equities strategist at UBS AG, adding that she's already seeing signs of weakening profit margins. "We expect that to be a dominant theme, as companies move from having that pricing power to seeing some demand weakness," Chedda added by phone.
According to Citigroup Inc. strategists, the Eurostoxx 50 positioning is now the most extended bullish since mid-2021, but momentum has slowed drastically in the
second half of January.