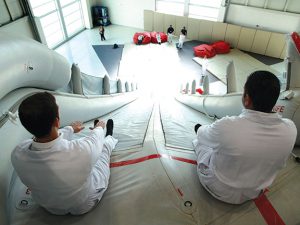 Bloomberg
Emergency slides on Airbus SE A380 superjumbos are in danger of bursting when deployed after suffering degradation while jets were idled during the coronavirus crisis, Europe's aviation regulator warned.
Operators of the double-decker must replace escape chutes on two over-wing and six upper-deck exits when returning their aircraft to service, the European Union Aviation Safety Agency (EASA) said in an airworthiness directive, citing examples of slides that split apart when inflated during routine overhaul.
"Following a parking and storage period, local seams opened during inflation," EASA said. If not addressed the fault could lead to "a loss of air-holding capability of a slide which, in case of an emergency, would prevent timely evacuation from the aeroplane, possibly resulting in injury to occupants."
Some A380 operators have been bringing back the 500-seat aircraft to cater to a surge in demand as travel rebounds from the pandemic. Still, the number of carriers using the jet is 46% lower than before the virus hit, according to data provider Cirium, after companies such as Air France-KLM permanently retired their fleets.
EASA said that the degradation of the slides, manufactured by the Collins Aerospace unit of Raytheon Technologies Corp., was likely caused by a combination of lingering moisture from condensation during flights and heat during the parking and storage.
The giant plane's upper-deck exits stand 26 feet (8 meters) off the ground.