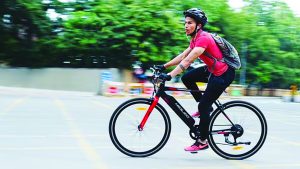 BLOOMBERG 
Electric bicycles are poised for a breakout year in Europe's biggest economy.
Battery-powered two-wheelers will outsell traditional bikes in Germany for the first time in 2023, according to projections from the country's industry group. They're already dominant in the mountain bike category, where nine in ten bicycles are powered by a motor.
While the e-bike boom hasn't meaningfully pushed up the total number of bicycles sold, their higher average price tag means there's more money changing hands. Revenue has more than tripled over the past decade, to €7.4 billion in 2022.
The rising popularity of electric bicycles is partly due to technology improvements such as smaller and more energy-dense batteries. Consumers also have gotten more comfortable using them thanks to micro-mobility sharing services from the likes of Lime, Tier, Voi and Bird. Another powerful driver is policy, and its impact is felt the world over.
Companies in China manufactured more than 20 million e-bikes in 2022, and the country has the highest uptake of both commercial and privately used electric bicycles. A healthy share of China-made e-bikes are exported, but many end up with local consumers and delivery drivers for services like Alibaba's Ele.me and Meituan.
While US electric-car incentives within US President Joe Biden's Inflation Reduction Act have made headlines, there's also growing federal, regional and local support to electrify bicycles. Bike and scooter media firm Micromobility Industries has tracked 87 active incentive programs in the US and Canada that encourage adoption, with over 230 similar efforts across Europe.