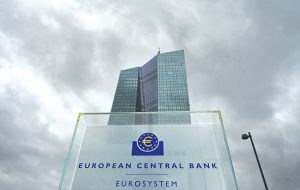 BLOOMBERG
A trio of hawkish European Central Bank (ECB) policymakers came out in force to restate the case for hiking interest rates further, once financial-market volatility subsides.
In the wake of a 50 basis-point increase accompanied by no clear signal on future moves, governors from Estonia, Lithuania, and Slovakia suggested the economy still needs another phase of tightening after global turmoil fades.
The remarks underscore how the ECB decision, where President Christine Lagarde declined to provide an assessment of consumer-price risks, may only signal a truce in the tussle between officials over how far to raise borrowing costs.
While the banking troubles that began in the US but later rattled Credit Suisse Group AG have clouded the path ahead, those previously advocating prolonged rate increases aren't abandoning those ambitions just yet.
"The future development of inflation over the entire horizon of our forecast period speaks clearly in favor of the need to continue," Slovak National Bank chief Peter Kazimir said in a statement. "Whether, how vigorously, in how many steps and to where — time and data will show."
His Lithuanian colleague, Gediminas Simkus, offered similar views. "Inflation trends haven't disappeared," he told reporters in Vilnius. "While we must remain cautious regarding future assessment, I still believe this wasn't the last interest-rate increase."
Traders' bets suggest agreement with that. Money markets are placing 50% odds on a quarter-point rate hike in May, with a full 25-basis-point increase priced by July and a 3.35% peak by October.
Madis Muller, governor of the Bank of Estonia, while insisting he wouldn't want to make predictions in the current situation, highlighted investors' sentiments.
"The financial markets expect interest rates to continue to rise," he told local radio. "To reduce inflation to the numbers that are in this forecast, there's a presumption that interest rates still need to rise."
The comments show how hawks haven't given up either on hopes for further tightening, nor on talking about it either.
Remarks speculating on future moves had proliferated in recent weeks, reflecting the ECB's desire to signal forthcoming steps. The decision marked a change in messaging, coming closer to the "meeting-by-meeting" approach officials had also espoused.
In tune with that, Bank of France Governor Francois Villeroy de Galhau gave a less definitive assessment of the ECB's course of action.
"The priority is fighting inflation, and we have one commitment, which is bringing inflation back toward 2%," he told BFM Business television.