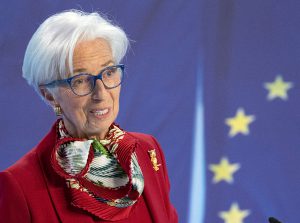 BLOOMBERG
The European Central Bank (ECB) went ahead with a planned half-point increase in interest rates but offered few clues on what may follow amid market turmoil that roiled Credit Suisse Group AG.
The deposit rate was lifted to 3% on Thursday — as officials have been flagging since their last meeting six weeks ago and as the majority of economists anticipated, but dropped language from its statement indicating where borrowing costs are headed.
It's "not possible to determine at this point in time" the future path for rates, President Christine Lagarde told reporters in Frankfurt when pressed on what the next move may be.
"If the baseline as we have it was confirmed and was to persist, we would have more ground to cover."
After becoming engulfed in the turmoil set off by Silicon Valley Bank's collapse, Credit Suisse's stock embarked on its initial plunge just as the ECB's Governing Council convened for its two-day gathering, raising concern about the health of the wider banking industry.
Asked whether the latest turbulence could herald a repeat of the last global financial crisis, Lagarde said "the banking sector is in a much, much stronger position than where it was back in 2008."
A "large majority" of ECB policymakers backed the decision, she said. With inflation is set to remain "too high for too long," ECB officials aren't "waning on our commitment to fight inflation, and we are determined to return inflation back to 2%."
Lagarde said the ECB will keep taking a data-dependent approach to rate decisions, steered by economic and financial data, underlying price growth and the strength of monetary-policy transmission.
Quarterly economic projections that accompanied the announcement showed inflation slowing more than previously thought this year, alongside stronger underlying price gains that exclude volatile items like food and energy.
The question now is whether the recent banking woes constrain the ECB's ability to tackle price gains that, while moderating, remain closer to double digits than its 2% target.
Vice President Luis de Guindos told European Union finance ministers that individual banks could be vulnerable to rising rates, though he said lenders in the region are much less exposed than their US counterparts, according to people familiar with the talks.
Markets think the ECB will now do less.