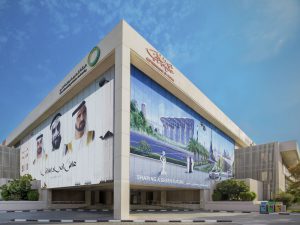 DUBAI / WAM
Dubai Electricity and Water Authority PJSC (DEWA) today reported its third quarter 2023 (Q3'23) consolidated financial results, with a record quarterly revenue of AED 9.4 billion, an operating profit of AED AED 3.7 billion, and EBITDA of AED 5.2 billion. For the first nine months, DEWA's consolidated revenue totalled AED 22.2 billion, with an operating profit of AED 6.9 billion and EBITDA of AED 11.2 billion.
By the end of Q3'23, the Company's net cash from operating activities increased by a robust AED 754 million to AED 9.8 billion, representing a stellar 8.3 percent increase compared to the same period last year. DEWA's third-quarter consolidated revenue increase of 10.2 percent to AED 9.4 billion was mainly driven by an increase in demand for electricity, water, and cooling services as well as an increase in the revenues from DEWA's other portfolio of assets.
Total power generation in the third quarter reached 18.897 TWh, compared to 17.375 TWh in the same quarter in 2022, a growth of approximately 8.8 percent. A reliability factor of 99.5 percent was maintained. Total green energy generation during the quarter amounted to 1.626 TWh, a 29.9 percent increase over the same period in 2022. DEWA achieved a gross heat rate of 8,042 BTU/kWh which is a 2.5 percent improvement over last year and reflects higher operational efficiency resulting from the Company's targeted sustainability and optimisation efforts.
Water desalination in the third quarter of 2023 reached 38.7 billion imperial gallons (BIG), a 5.4 percent increase over the same period in the previous year. As of 30 Sep 2023 DEWA is serving 1,200,312 customers, which is 57,159 (or 5 percent) more accounts than a year ago, and an increase of 15,601 accounts from the second quarter of 2023.
Despite a doubling in finance costs, DEWA's third-quarter net profit exceeds the profit of the same period last year by 6.9 percent.
For the first 9 months of 2023, DEWA's revenue growth of 7.4 percent was mainly driven by electricity demand growth of 6.4 percent, water demand growth of 5.7 percent and cooling services revenue growth of 9.5 percent. In addition, the company delivered 4.771 TWh of green power, representing a 34.5 percent increase compared to the same period last year.
"I am pleased to report significant achievements and record-breaking milestones for DEWA in this quarter. We have achieved the highest quarterly revenue, operating profit, EBITDA and net profit in DEWA's history with an outstanding 9.9 percent growth in our EBITDA. Our electricity generation growth of 8.8 percent, gross installed capacity of 15.1 GW with 17 percent of which is coming from renewable sources, peak load of 10.4GW, customer accounts exceeding 1.2 million, are the highest ever reported. Today, our gross infrastructure investment exceeds AED 215 billion, and our year-to-date carbon emissions reduction has exceeded 3 million tons. The profit from this quarter alone is sufficient to meet our dividend obligations for the second half of 2023," said Saeed Mohammed Al Tayer, MD and CEO of DEWA.