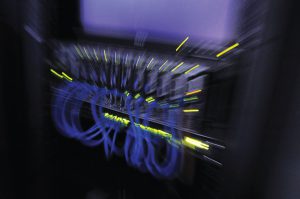 BLOOMBERG
Dell Technologies Inc, the company which helped usher in the era of personal computing, said its most promising business now is the one that sells equipment for data centers.
While Dell expects PCs to emerge from their slump and generate a long-term revenue increase of about 2.5%, the division that sells servers, data storage and other office infrastructure will grow about 7% over the next few years — nearly double the forecast given in 2021, the company told investors.
The new economywide interest in artificial intelligence (AI) is fueling some of the upside, because AI requires more powerful machines, Dell Chief Operating Officer Jeff Clarke said in an interview. "AI is additive — it's going to grow overall technology spend," he added, citing the increased need for servers equipped with graphics processors, such as the ones made by chipmaker Nvidia Corp, and high-capacity storage.
The company said that it has more than $2 billion in backlogged orders for a server that is marketed for AI use. Still, Dell is constrained by the same shortage of high-power chips that is affecting the rest of the industry, Clarke said. "Demand is ahead of supply." After the departure of Chuck Whitten in August, Clarke is Dell's sole No 2 to founder and Chief Executive Officer Michael Dell.
Computer makers have had a difficult year as PC purchases suffered historically steep declines after the pandemic. With the dip in computer growth, investors have turned their attention to Dell's server business, particularly to see how the company can benefit from AI, said Bloomberg Intelligence analyst Woo Jin Ho.
Dell isn't giving up on selling computers — it's still a $58 billion-a-year business contributing more than half the company's annual revenue. There's just less potential for growth in the market, Clarke said.
Still, a cycle of new purchases could be coming as many PCs bought early in the pandemic are getting old and Microsoft Corp is pushing users to a new version of its Windows operating system, he added.