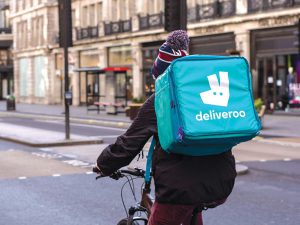 BLOOMBERG
UK food-delivery service Deliveroo Plc reported that annual sales rose 14% last year when inflation and economic headwinds hit customers.
Revenue rose to £1.97 billion ($2.4 billion) and its operating loss was £245.6 million last year, the company said in a statement. Shares fell 3% to 86.88 pence in London.
The company said it reached a key milestone of profitability in the second half of 2022, posting positive adjusted earnings before interest, taxes, depreciation and amortisation sooner than its earlier guidance.
Chief Executive Officer Will Shu attributed this to slimmer marketing and a nascent in-app advertising business, which Deliveroo began growing last year.
|"It was a really tough consumer environment," Shu said in an interview. "As we look forward this year, we are cautiously optimistic."
Food delivery companies have shifted strategies to focus on their bottom line as inflation and a return to dine-in restaurants after the pandemic-era restrictions hurt their business. Deliveroo significantly scaled back operations last year, exiting from Spain, Australia and the Netherlands. In February, it announced plans to cut 9% of its workforce.
Shu said that the company doesn't plan to expand into new markets currently. He also said he didn't expect any further job cuts. Adjusted earnings before interest, taxes, depreciation and amortisation will be £20 million to £50 million, weighted towards the second half of this year, the company said.