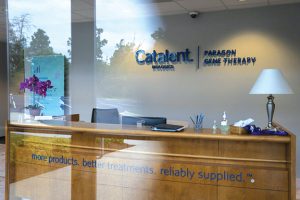 Bloomberg
Life sciences company Danaher Corp. has expressed takeover interest in contract manufacturer Catalent Inc., according to people familiar with the matter.
The overtures by Danaher in recent months valued Catalent at a significant premium, the people said, asking not to be identified because the matter is private. It's unclear how Catalent will proceed or whether it's receptive to a takeover offer, the people said. A deal isn't imminent, they added.
"As a matter of company policy, Catalent does not comment on market rumors or speculation," a representative said in an emailed statement.
A representative for Danaher didn't immediately respond to a request for comment.
Catalent, based in Somerset, New Jersey provides delivery technologies and development solutions for drugs, biologics and consumer health products. The manufacturer has gained prominence during the coronavirus pandemic, helping to produce more than a billion Covid-19 vaccines and treatments in partnership with companies including Moderna Inc., Johnson & Johnson and AstraZeneca Plc.
The company's shares more than tripled in the first year of the pandemic but have fallen about 60% since their peak in September 2021. They closed at $56.05 on Friday, giving the company a market value of about $10 billion.
Danaher has become a life sciences focused company since spinning out its industrial business arm Fortive Corp. in 2016.
Shares of the Washington-based company closed at $269.85 Friday, giving it a market value of more than $196 billion.
While Danaher is known in the industry as a serial acquirer, it hasn't announced any major deals since 2021, when it bought Aldevron, a maker of proteins used in vaccines and research, for $9.6 billion.