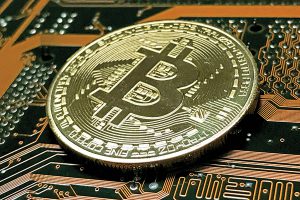 Bloomberg
Cryptocurrencies outperformed US equities for a change, with Bitcoin and Ether gaining for the first time in five days.
Bitcoin, the largest virtual currency by market value, rose about 2% to $19,2912 in New York. Earlier, it slid as much as 4% toward a three-month low. Ether rose about 1.5%. It had dropped as much as 20% since a much-touted network upgrade last week.
Markets are shuddering at the Federal Reserve's determination to fight inflation by constricting financial conditions. Treasury yields hit multiyear highs and stocks fell as a parade of central banks joined the Federal Reserve in boosting rates to curb scorching levels of inflation at the expense of economic growth.
The Fed "was heavily frontrun in crypto, and we're hence seeing a correction before stocks have even fully moved," said Wilfred Daye, chief executive officer of Securitize Capital, a digital asset management firm. "This has been a pattern we've seen repeatedly with event-driven moves recently due to the relative immaturity of crypto markets and their participants. Volatility is higher in crypto than equity trading."
The backdrop has offered little respite for crypto markets. The sector was already reeling from a $2 trillion plunge
from a 2021 record high, an unraveling pockmarked with blowups such as the Three Arrows Capital hedge fund and the Terraform Labs project — whose co-founder Do Kwon is wanted by authorities.
"Last night BTC/USD revisited multi-year lows around $18,200," said Joshua Lim, former head of derivatives at Genesis Trading. "There were some shorts that got trapped at the lows getting liquidated now."
The MVIS CryptoCompare Digital Assets 100 Index is down this week, taking its losses for 2022 to about 60% compared with 23% for global stocks.
The correlation between equities and Bitcoin is elevated and close to a record, a sign of how assets are being tossed around by common macro factors.
XRP continued to rally. A crypto industry lobbying group wants the judge in a high-profile digital assets case to consider Congressional efforts to establish a new legal framework for the nascent industry before moving ahead.
The Chamber of Digital Commerce filed an amicus brief Wednesday in the Securities and Exchange Commission's lawsuit against Ripple Labs, which is being heard before the US District Court for the Southern District of New York.
XRP, the native currency of the Ripple network, rose about 8 cents to 49 cents, or 20% — the biggest one-day increase since August 2021. It has rallied about 40% this week, cutting its loss for the year to about 40%.