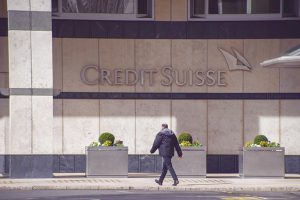 BLOOMBERG
Credit Suisse Group AG sought to arrest a collapse in investor confidence by opening a 50 billion Swiss franc ($54 billion) credit line with the country's central bank and offering to buy back debt, as executives and government officials plot the next steps for the troubled lender.
Shares in Credit Suisse initially surged as much as 40% before paring gains, remaining lower when they lost the most since the 2008 financial crisis. As analysts began to question how much time the announcement has bought, the Swiss Federal Council was setting up a special meeting to discuss the situation.
Meanwhile, Credit Suisse's top shareholder earlier said "everything is fine" and the bank isn't likely to seek more capital, the day after his comments helped spark the share turmoil. Worries about Credit Suisse's financial health have roiled global markets over the past 24 hours, alarmed regulators across Europe and the US and prompted some firms to reassess their exposure to the bank.
The government, central bank and regulator Finma have been in close contact to discuss ways to stabilise Credit Suisse. Ideas floated include a separation of the bank's Swiss unit and a long-shot orchestrated tie-up with larger Swiss rival UBS Group AG, people familiar with the matter said, cautioning that it's unclear which, if any, of these steps would actually be executed. Credit Suisse has not yet used the credit line at the Swiss National Bank, according to a person familiar with the matter.
In the meantime, executives are insisting that a strategic revamp announced in October remains the core plan to turn around the bank, and the debt repurchases underline the core strength of the bank.
"These measures demonstrate decisive action to strengthen Credit Suisse as we continue our strategic transformation," Chief Executive Officer Ulrich Koerner said. "My team and I are resolved to move forward rapidly to deliver a simpler and more focused bank built around client needs."
Analysts at JPMorgan Chase & Co however see a takeover of the bank as the most likely outcome.
Analysts led by Kian Abouhossein laid out three scenarios for Credit Suisse amid a crisis of investor confidence in the bank, and say that a takeover — with rival UBS Group AG a probable option for this — is the most likely.
A deal could be followed by a listing or spinoff of the Swiss Bank part of the lender, worth 10 billion Swiss francs ($10.8 billion), given the market concentration between Credit Suisse and UBS, said the analysts, who have a neutral rating on Credit Suisse.
Credit Suisse announced at least its second debt repurchase in just the past six months as it looks to restore investor confidence. It offered to buy back about $3 billion of its debt in October last year, saying at that time it wanted to "take advantage of market conditions to repurchase debt at attractive prices."
Switzerland's second-largest lender, which traces its roots back to 1856, has been battered over the last several years by a series of blowups, scandals, leadership overhaul and legal issues.