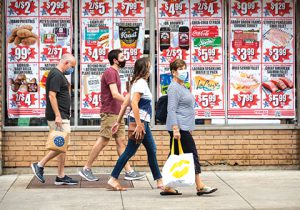 Bloomberg
Corporate distress in Europe's biggest markets is near a two-year high as inflation and higher interest rates squeeze indebted firms.
Companies in Germany, the UK, France, Spain and Italy are the most distressed since August 2020, according to the Weil European Distress Index. The study aggregates the data from more than 3,750 listed
European firms.
"If this upward trajectory continues, we would expect to see increased pressure on liquidity and further tightening across the credit markets with some businesses struggling to access finance and ultimately facing defaults," said Neil Devaney, a partner and co-head of Weil, Gotshal & Manges's London restructuring practice. "The economic outlook has become significantly more challenging."
Businesses in Europe are struggling with rampant inflation, with firms forced to pay more for everything from fuel to labour. The resulting tightening of monetary policy by the Bank of England and the European Central Bank (ECB) is also making it more expensive for
companies to refinance.
Of the five European countries studied by Weil, Germany was the most distressed, followed closely by the UK, with companies from the retail and consumer goods sector leading the decline. To assess distress, Weil looked at metrics including firms' ability to access liquidity, changes to valuations and
overall market conditions.
There were 10 issuers across 11 tranches in the market in Europe on Tuesday, for a minimum volume of 9.37 billion euros ($9.9 billion). Turbulence in Europe's primary bond market is leaving the door ajar for arrangers of corporate loans and Schuldschein to pitch deals
Some of the world's largest climate finance groups are urging UK Prime Minister Boris Johnson's government not to classify natural gas as a green investment.
Meanwhile, Tikehau Capital is looking to raise 1 billion euros for a new fund offering loans with high returns to riskier firms as soaring inflation and the threat of economic slowdown raises the credit risk of European companies.
Wall Street expects bond issuance from blue-chip firms to be light — or even non-existent — this week, as borrowing costs surge and recession fears mount.
Meanwhile, US Treasuries slipped on Tuesday led by long-end bonds, after markets were closed Monday in observance of the Juneteenth holiday.