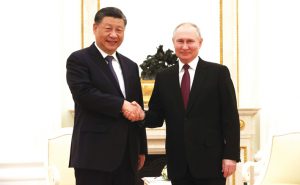 BLOOMBERG
Chinese President Xi Jinping touted close ties with Russia on the second day of his state visit to Moscow on Tuesday, inviting Vladimir Putin to make a return visit later this year.
"It fits the historical logic that Chinese leaders take Russia as a primary choice for their overseas visits," Xi said, adding that China and Russia are each other's biggest neighbor and comprehensive strategic partner," the official Xinhua News Agency reported.
Russia's invasion of Ukraine was a major topic for the leaders in more than four hours of talks, according to both sides, with Putin saying before the meeting that he's ready to discuss China's initiative for ending the war. Putin welcomed Xi to the Kremlin for more discussions. Russian state television showed the two men walked the long red carpets of the Kremlin.
The US and its allies have rejected China's proposals as biased towards Russia, and Ukraine has been cool, as well. Xi is expected to speak to Ukrainian President Volodymyr Zelenskiy for the first time since the February 2022 invasion after his Russia visit.
Xi's three-day visit, his first trip abroad since claiming a third term earlier this month, sends a strong signal of support for Putin amid efforts by the US and its allies to isolate the Russian president over his invasion. Russia has become increasingly dependent on China for trade with other markets cut off, but there were few indications that this visit would bring new deals.
Putin and Xi "had an in-depth exchange of views on the Ukraine issue," China's Foreign Ministry said in a statement on Tuesday. It added that "most countries support easing tensions," but the ministry didn't go into further details on the topic.
China would continue to strengthen strategic coordination with Russia, Xi also said, according to the statement.
Xi met Russian Prime Minister Mikhail Mishustin, who called for deepening economic ties and received his own invitation to visit China.   US National Security Council spokesman John Kirby dismissed the visit as "a marriage of convenience."
"President Xi finds himself in this weird position — wanting the war to end but not wanting Russia to lose," he said on MSNBC.
China's ceasefire paper has little detail and largely consists of broader foreign policy positions long espoused by Beijing. While its embrace of the principle of territorial integrity won praise in Kyiv, which seeks to drive Russian forces back across the border, a ceasefire call that would freeze forces in current positions is a non-starter.
For Putin, Xi is by far the most significant international leader to visit since the invasion, which triggered Europe's deadliest conflict since World War II and waves of sanctions by the US and its allies. Xi's arrival comes just days after the International Criminal Court issued a warrant for Putin's arrest on charges of war crimes. Russia has dismissed the move, and China called for the court to avoid politicisation.
The Chinese leader last visited Russia in mid-2019, while Putin went to Beijing in early 2022 to attend the opening of the Winter Olympics. At that meeting the two leaders agreed to a "no-limits" friendship and signed a series of long-term energy supply deals.
The two met in September last year at a meeting of the Shanghai Cooperation Organization, where Putin said he understands Beijing's "questions and concerns" about his invasion of Ukraine, a rare admission of tensions between the diplomatic allies.