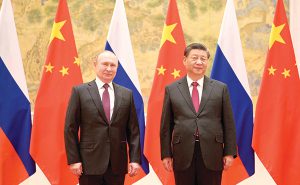 Bloomberg
China hit back at a report that the US has confronted it with evidence suggesting some of its state-owned firms may be helping Russia's war in Ukraine, saying Washington should stop sending weapons if it wants the conflict to end.
China "would never add fuel to the fire, still less exploit the crisis," Foreign Ministry spokesperson Mao Ning said Monday at a regular press briefing in Beijing. "The US is the one who started the Ukraine crisis and the biggest factor fueling it."
"Rather than reflecting on its own acts, the US has been sowing paranoia and pointing fingers at China," she said. "We reject such groundless blackmail, and would not sit by and watch the US harm the legitimate rights and interests of Chinese companies."
The support from Chinese companies consists of non-lethal military and economic assistance that stops short of a wholesale evasion of the sanctions regime the US and its allies imposed after Russian forces launched a full-scale invasion of Ukraine about a year ago, Bloomberg News reported Jan. 25, citing people familiar with the matter.
The trend was worrying enough that US officials raised the matter with their Chinese counterparts and warned about the implications of supplying material support for the war, the people said, though they declined to provide details of those contacts. President Xi Jinping has avoided criticizing Russia over the war and has offered to play a role in peace talks. Xi has also come out against the use of nuclear weapons in the conflict.
China urges
Kevin McCarthy not to
repeat Pelosi visit
to Taiwan
China called on US House Speaker Kevin McCarthy not to visit Taiwan, raising the specter of a repeat of the showdown last year when his predecessor, Nancy Pelosi, made her own trip to the democratically run island.
"We urge certain individuals in the US to earnestly abide by the one-China principle," Foreign Ministry spokeswoman Mao Ning told a regular news briefing Monday, referring to Beijing's belief that both sides are part of the same country. They should also "stop doing anything that violates the basic norms in international relations," Mao said.
Although Mao stopped short of using McCarthy's name, she was responding to a question about a report last week that the California Republican was planning to visit Taiwan. She didn't say what China would do in response to any such trip.
The People's Liberation Army held unprecedented drills around the island and fired missiles over Taipei in August, when Pelosi, a Democrat, became the first House speaker in 25 years to visit Taiwan. McCarthy had at the time pledged to make his own trip to the island should his party win the House in the mid-terms.
While relations between the US and China have improved since President Joe Biden held his first face-to-face meeting with counterpart Xi Jinping in November, Beijing has repeatedly indicated that it has no room to compromise on Taiwan's sovereignty. Washington cut formal ties with Taipei more than four decades ago, as part of a deal to normalize relations with Beijing, which claims Taiwan as its territory.
Meanwhile, Mao sidestepped a question about an internal memo by a US Air Force general warning about the need to prepare for war with China in 2025. General Mike Minihan, head of the Air Force's Air Mobility Command, said in an internal memo that he had a gut feeling that conflict over Taiwan would happen in two years, NBC reported Friday.
Mao reaffirmed that China would "never promise to give up the use of force" to unify the two sides, but said Beijing hoped to resolve disputes over the island peacefully.