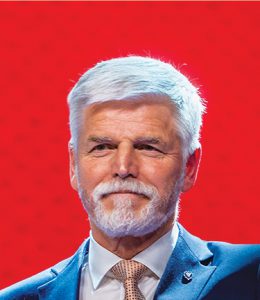 Bloomberg
China lashed out at the Czech Republic after incoming President Petr Pavel spoke with Taiwan leader Tsai Ing-wen, saying the move amounted to "serious interference" in its affairs.
"This is a blatant violation of the Czech Republic's political commitment to the one-China principle," Foreign Ministry spokeswoman Mao Ning said Tuesday at a regular press briefing in Beijing, referring to the government's position that Taiwan is part of China.
Pavel, who secured a solid victory over former billionaire Prime Minister Andrej Babis on Saturday, spoke with Tsai on Monday, a sign that he plans to bolster ties with Taipei in the face of mounting pressure from China. President Xi Jinping has pledged to bring the democratically run island under its control, by force if necessary.
"I assured her that Taiwan and the Czech Republic share the values of freedom, democracy, and human rights," Pavel, who takes office March 9, said on Twitter after the call with Tsai.
He added that he hoped to meet Tsai, who has just over a year left in her final term as president, "in person in the future."
"China is gravely concerned and strongly opposes this, and we have made a solemn demarche to the Czech side," Mao said of the call. The European nation should "take immediate and effective measures to correct the wrongdoing," the spokeswoman said.
Tsai said Taiwan is prepared to expand cooperation on supply chains and key technologies, such as semiconductor design, according to a statement by her office.
Pavel's conversation with Tsai marks a shift for the EU member state of more than 10 million. He'll succeed Milos Zeman, who has been one of the bloc's strongest advocates for closer economic ties with Beijing.
Prague Mayor Zdenek Hrib, who made Taipei a sister city and has been at the forefront of seeking closer ties with Taiwai, welcomed Pavel's outreach.
"I am glad that there is now agreement on this key partnership," he said on Twitter, noting that his efforts faced resistance from Zeman.