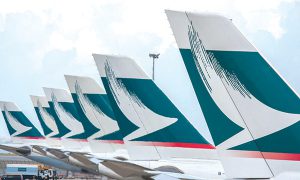 Bloomberg
Cathay Pacific Airways Ltd signalled a stronger second-half outlook even as Chief Executive Officer Augustus Tang told staff Hong Kong's status has been hammered by Covid travel restrictions that continue to shackle the city.
While Hong Kong's main airline said its first-half net loss narrowed to HK$5.3 billion ($675 million) from HK$7.9 billion a year earlier, Tang said in an internal staff memo seen by Bloomberg that the financial hub is taking longer than other cities to see a travel recovery.
"It is clear that Hong Kong has fallen far behind other international aviation hubs and that it is taking longer to see a recovery with travel restrictions not yet completely easing," Tang said in the memo.
While Hong Kong announced mandatory hotel quarantine for incoming travellers will
be cut to three nights from
Friday, Cathay called for a
clear roadmap to remove all
restrictions.
Cathay's outlook is
improving after three years of unprecedented challenges — first Hong Kong's anti-government protests in 2019 and then the Covid crisis, which has hit particularly hard on an airline completely reliant on international traffic.
While Hong Kong's reopening lags the rest of the world beyond mainland China, the city has been gradually easing some of its pandemic border curbs. News of the easier quarantine requirements have sparked a rush for flight bookings.
"The most recent adjustments to quarantine arrangements for arriving passengers are expected to improve travel sentiment," Chairman Patrick Healy said in the earnings statement. "This gives us confidence that our airlines and subsidiaries will see a stronger second-half than first-half
performance."
In the depths of the pandemic, Hong Kong mandated 21 days of hotel quarantine and banned flights from several major markets including the US and UK. Strict rules on flight crew movements left Cathay operating at about 2% of its pre-virus passenger capacity in some months during the first half. That figure is back to 11% and Cathay has said it aims to lift it to 25% by the end of the year, a target that for now remains unchanged and constrained by strict rules on flight crews.
The airline said its ability to operate more flights was "severely constrained by a bottleneck on crewing resources under the existing quarantine requirements." "We will only be able to operate more flight capacity when the existing stringent travel restrictions and quarantine requirements applicable to Hong Kong-based aircrew are lifted," Healy said.
Cathay's shares pared earlier gains after the results were released, to be up 1.2% in afternoon trading. They're up about 35% this year, the best performance on a Bloomberg gauge of global airline stocks.
Cathay avoided collapse in 2020 when Hong Kong's government backed a plan to raise HK$39 billion.