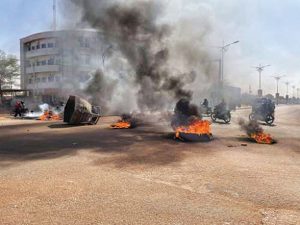 Bloomberg
Mutinous soldiers in Burkina Faso detained the nation's president and asked him to sign a resignation letter, people familiar with the matter said a day after an army mutiny.
President Roch Marc Christian Kabore is being held at a military camp, the people said, asking not to be identified because they're not authorized to speak to the media. Calls to government spokesman Alkassoum Maiga weren't answered when Bloomberg sought comment.
News of Kabore's detention came after a day of unrest in Burkina Faso on Sunday, when soldiers at several army bases opened fire, including at the military airport in the capital, Ouagadougou. The government imposed a curfew between 8 pm and 5:30 am and ordered schools to remain closed Monday. Mobile internet services have been cut, according to Netblocks, a private business that monitors disruptions to connectivity.
Kabore, 64, has faced growing opposition to his government's failure to tackle a mushrooming insurgency that's destabilized other countries in the region including Mali, Niger and Ivory Coast since it began six years ago. Burkina Faso is Africa's fourth-largest gold producer, where companies including Endeavour Mining Plc and Iamgold Corp. own mines.
In November, protesters took to the streets calling for Kabore's resignation after 49 military police were killed in an attack on a military police base in the north of the country. Demonstrations escalated after an internal army document showed the officers had been left without food.