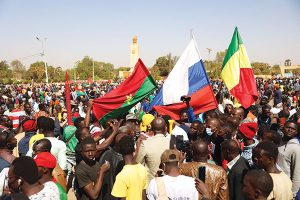 Bloomberg
A coup in Burkina Faso will reverberate across West African economies and heighten concerns about growing instability in neighboring states.
Soldiers toppled President Roch Marc Christian Kabore on Monday, accusing him of failing to tackle an insurgency that's spreading in the region. The US and United Nations condemned the takeover, while the Economic Community of West African States is preparing a summit to discuss its response to Kabore's ouster.
The regional economic bloc, known as Ecowas, now has to decide whether to impose sanctions on Burkina Faso, as it did on Mali and Guinea following coups there last year. The US signaled it may withdraw aid to the country, one of the world's poorest despite its status as Africa's fourth-biggest gold producer.
The repercussions of any possible sanctions — which have done little to persuade other juntas in the region to relinquish power — would be felt across Burkina Faso's borders. Ivory Coast, which serves as a transit route for the bulk of its landlocked neighbors' imports and has already seen its trade with Mali disrupted, would likely be hardest hit. Commercial links with Niger, Benin, Togo and Ghana could also be adversely impacted.
Gold miners in the country including Endeavour Mining Plc and Iamgold Corp. have said their operations are unaffected by the events in the capital, Ouagadougou.
A larger concern for Burkina Faso's southern neighbors is security, with extremists who've been waging an insurgency in the Sahel region since they seized part of northern Mali in early 2012 looking to expand their reach.
Despite Burkina Faso's military citing the government's failure to suppress the insurgency as justification for taking power, the army may find itself even more starved of resources, especially if sanctions are imposed, said Hassane Kone, a researcher.