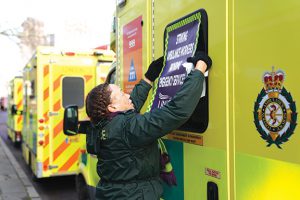 Bloomberg
For the 8,000 people suffering from cystic fibrosis in the UK, Kaftrio is a miracle drug. For the cash-strapped National Health Service, it's a foretaste of an unaffordable future.
Costing £100,000 ($123,000) a year per patient, Kaftrio could add hundreds of millions of pounds to the £180 billion annual NHS bill, a new liability even as the service struggles to manage its worst winter crisis yet. Excess deaths are soaring, ambulance waits are at record highs, patients lie for hours on trolleys, and stressed-out staff are striking over pay and conditions.
Spiraling costs are the threads that link innovations in health-care technology with Britain's overcrowded hospitals. To afford one and fix the other, the NHS is increasingly desperate for an ever-bigger portion of the UK's limited financial resources. But there is no spare cash. Policy makers are facing a brutal reality: either taxes are raised, free NHS services are cut, other government departments are effectively scrapped — or Britain's health service breaks.
The NHS may be much-loved, but it links many of the UK's problems. Record numbers of Britons are leaving the workforce through sickness, and an increasingly elderly and infirm population needs more treatment than ever for obesity, cancer, diabetes and other chronic conditions.
That holds back growth, squeezes government revenue and pushes up borrowing costs — limiting not just public funds needed to fix the health service, but investment across the board that Prime Minister Rishi Sunak says is central to reviving the economy.
The cost of the NHS just keeps rising. In the mid-1950s, shortly after the service was created, it cost 2% of GDP. By 2019, it was 10.2%. That was only manageable as public funds were diverted from defense to health and falling interest rates reduced the cost of servicing the national debt. Today, higher interest rates have added £40 billion to debt servicing and more money is being pledged on defense.
Yet, the demographic and technological trends remain. By 2067, the NHS will cost 13.8% of GDP, according to the Office for Budget Responsibility, the UK's fiscal watchdog. To plug that gap, the government will need to find an extra £85 billion every year, in today's money. That's the same as the entire annual budget for the Department for Education.
"We have a horrible combination of record tax levels, very high borrowing, high interest rates and weak growth and we are still struggling to fund health services," said Paul Johnson, director of the Institute for Fiscal Studies. "It's pretty grim."
Sunak knows the consequences of getting things wrong. He and Chancellor of the Exchequer Jeremy Hunt are currently attempting to repair Britain's public finances after a run on the pound and bond-market upheaval during the short premiership of his predecessor, Liz Truss. Data on Jan. 24 showed the UK sank deeper into debt in December, with the budget deficit almost tripling in a year to £27.4 billion. With inflation still near four-decade highs, there remains no margin for a fresh policy error.
The Treasury declined to comment.
This story is based on interviews with senior NHS executives, experienced doctors and other stakeholders, many of whom spoke on condition of anonymity as they were not authorized to speak in public about sensitive issues. Their testimony, and the fiscal evidence, reveals that the UK government faces a huge task to resuscitate the NHS, arguably the world's most famous health care system.