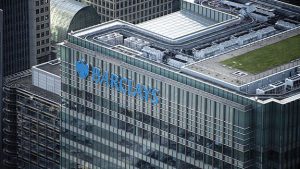 Bloomberg
The balance sheets of Ireland's biggest banks have risen by two thirds since the Brexit vote, the latest data to demonstrate how Europe's financial landscape is shifting following the UK's departure from the European Union.
Banks in Ireland regulated by the ECB's Single Supervisory Mechanism (SSM) saw their balance sheets increase from 300 billion euros ($342 billion) in December 2015 to 500 billion euros ($569.42 billion) in July, trade group Banking & Payments Federation Ireland and its affiliate the Federation of International Banks in Ireland said in a report on Tuesday.
Since the Brexit vote in June 2016, Citigroup Inc., Barclays Plc and Bank of America Corp have all set up or expanded units in Ireland that fall under the ECB's supervision. The main Irish retail banks were already under the ECB's remit.
"While Ireland's international financial services sector has steadily grown over the decades, the UK's exit from the EU has accelerated this trend," Fiona Gallagher, Chief Executive Officer of Wells Fargo & Co.'s Irish-based unit, said in a statement. "This has seen an influx of new staff, assets, risk management capabilities and investment services activities in Ireland."
Thousands of jobs and hundreds of billions of dollars of assets moved from the City of London since the UK voted to leave the bloc. While London remains Europe's preeminent financial center, the shifts have given momentum to cities from Paris to Frankfurt to Dublin.
The SSM-supervised banks now employ about 27,000 people in Ireland and the financial services sector overall accounts for almost a fifth of Ireland's overall corporation tax revenue, BPFI said. Those taxes have been key to underpinning the nation's economy throughout the pandemic, when government spending soared to cover coronavirus-related welfare payments.
JPMorgan's Paris traders are only part of threat to London
Before Britain quit the EU, JPMorgan's Paris HQ was a relative backwater with about 250 staff. Thanks to the shift of EU banking out of London it expects to have 800 by the end of next year. Most remarkable, according to workers there, is that the Wall Street giant has pretty much added a whole new
business line to its French HQ: Trading and sales.
It's a symbol of how Paris has become the EU's No.1 financial trading hub. Goldman Sachs Group Inc has more than tripled its local headcount since the Brexit vote, while Bank of America Corp has gone from 83 staff in 2017 to about 500 now.
New figures from EY show Paris has attracted about 2,800 finance workers from the UK since the 2016 referendum, Frankfurt about 1,800 and Dublin close to 1,200. That's a long way from the tens of thousands some predicted. JPMorgan's Canary Wharf tower still dwarfs its Paris digs.
Goldman Sachs is moving into a plush new site near the Arc de Triomphe and BofA is in a renovated art deco post office. Citi is creating a trading floor in its site near the Champs-Elysees that can accommodate almost 200 people. Morgan Stanley's Paris HQ is growing and JPMorgan has six new trading floors in its extended office. "This is the best evidence of love," President Emmanuel Macron told JPMorgan's Jamie Dimon in June.
Dublin is one of the standout winners from the post-Brexit financial diaspora. Banks from Barclays Plc to BofA have bolstered their EU bases in the Irish capital. Citi, whose main European lending entity is in Ireland, has about 2,500 employees there and it's expanding functions such as finance and risk management.