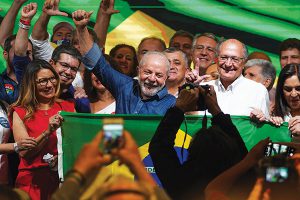 Bloomberg
President Jair Bolsonaro's party is questioning the result of Brazil's runoff election, seeking to annul votes that gave leftist leader Luiz Inacio Lula da Silva a tight victory on October 30.
Bolsonaro's Liberal Party claimed that older models of Brazil's electronic ballots had problems that make it impossible to properly identify the machines, and requested that votes cast through them be annulled. If only new models of the machines are deemed reliable, the conservative president would be reelected with 51.05% of the votes, the party said.
Brazilian assets extended losses after the allegations. The real fell as much as 1.7%, while the benchmark Ibovespa stock index closed 0.65% lower as traders worried about the risk of a contested vote.
Yet the electoral court said the same machines were used in both rounds of election. Therefore, the allegations will only be considered if the first round of the vote is also reviewed, the court's president, Justice Alexandre de Moraes, wrote in a decision published on Tuesday.
Moraes gave 24 hours for Bolsonaro's party to decide how to proceed. His ruling puts the party in a tough spot because a move to question first-round results would likely affect the election of many of its members in congress.
Bolsonaro has been mostly away from the public eye since losing the election to Lula over three weeks ago. Yet his most loyal supporters have blocked highways across Brazil and continue to stage protests making unproven claims of election fraud and demanding military intervention. While Tuesday's request by the Liberal Party is unlikely to advance in courts, it adds to a narrative that will keep the president's base engaged.
Speaking before Moraes's decision, Liberal Party's head Valdemar da Costa Neto said the report about electronic voting machines doesn't reflect the party's opinion, but is the result of studies carried out by specialists.
"I was elected through electronic voting machines, lawmakers from the Liberal Party were elected through electronic voting machines," he told journalists, describing the report as a specialist work that needs to be addressed by the electoral court to dispel any doubts about the electoral process.
Lula's advisers, congress
seek middle ground in
spending plan
Advisers to President-elect Luiz Inacio Lula da Silva and members of Brazil's congress are discussing a more moderate spending plan after last week's budget proposal sent local markets plunging, according to two people with knowledge of the matter.
The plan will likely be put in front of Lula later this week after he walked back his own comments dismissing investors' concern that a surge in government spending would undermine efforts to rein in inflation. While Lula's economists are pushing for a fiscal stance that investors consider credible, his political advisers want to ensure they line up enough funds to pay for social programs without having to negotiate spending waivers with congress every year.
A key voice in deciding the final outcome is lower house Speaker Arthur Lira, who is inclined to accept a more moderate package in exchange for support for his bid to remain in his post, a third person said.
One of the ideas under consideration, the economic advisers said, is to circumvent the country's key fiscal rule for two years, as opposed to indefinitely as previously suggested, in order to finance Brazil's biggest cash handout program.
The advisers, who asked for anonymity because the discussion isn't public, stressed that no decision has been made as negotiations are ongoing.