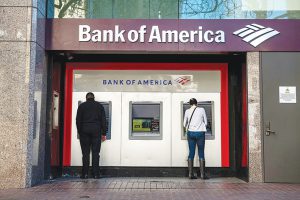 BLOOMBERG
Bank of America Corp (BofA) is trimming its wealth-management, banking and lending group as higher interest rates continue to crimp business on Wall Street, forcing banks to make broader cuts.
Fewer than 200 staffers were offered different roles in other parts of the company while a handful, including some loan officers, were let go, according to people with knowledge of the matter. Salaries are being kept the same for everyone affected, while bonuses will vary based on new roles.
"As our business and client needs grow and evolve, our focus continues to be on aligning our team to areas of greatest need," a representative for BofA said. "Based on current market conditions, we are realigning talent to support these areas."
Higher rates have prompted a slowdown in hiring across various lending businesses. Rivals Wells Fargo & Co and JPMorgan Chase & Co, which eliminated thousands of jobs in home-lending after the Federal Reserve raised interest rates, cooling what had been a red-hot housing market.
The bank has held back on massive job cuts seen elsewhere in the industry. Earlier this year, BofA started telling executives to pause hiring, except for the most vital positions, as it tries to keep a lid on costs and prepare for a possible economic downturn. The redeployment in the lending business comes after a decision last year to pull back from hiring after fewer employees decided to leave of their own accord.
After the 2008 financial crisis, US banking giants largely concluded that mortgages were better in moderation. BofA spread out numerous legal settlements to resolve tens of billions of dollars in liabilities, largely stemming from the purchase of troubled subprime-mortgage lender Countrywide Financial Corp.