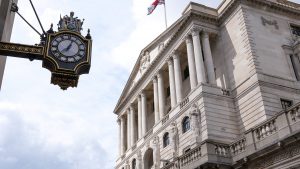 BLOOMBERG 
The pace at which the Bank of England (BOE) shrinks its balance sheet is likely to accelerate, the deputy governor for markets told UK lawmakers.
The BOE is currently unwinding about £20 billion (£25 billion) of quantitative easing (QE) every three months, both as assets mature and as they are actively sold.
Dave Ramsden, deputy governor, said: "There's the potential for us to go up a little bit. I don't see us going down given the experience of the first year."
Sticking with a target of around £80 billion a year would mean less active sales, as redemptions increase. The Monetary Policy Committee had been advised by BOE markets officials at the outset of quantitative tightening (QT) that anything above £100 billion "might disturb liquidity," Ben Broadbent, a deputy governor, said.
The BOE's balance sheet grew to around £1 trillion in the pandemic as asset purchases increased to £895 billion. QE has been reduced to around £820 billion since the BOE started to unwind the program last February. Active sales only began in November.
Fears that the asset sales might destabilise markets have proved unfounded. The reduction has been roughly evenly split between active sales and maturing assets.
Ramsden said the BOE was likely to at least maintain the £40 billion quarterly rate of active sales.
At the same hearing, Governor Andrew Bailey told the Treasury Commitee that the BOE will not return its balance sheet to levels seen before the 2008 financial crisis.
Balance Sheet Headroom
He said the BOE wants to reduce size of balance sheet to give it headroom to respond to events in the future, but indicated that it will remain in the hundreds of billions of pounds. Before the financial crisis the balance sheet was less than £100 billion.
"I do not envisage the balance sheet returning to what it was before the financial crisis," Bailey told the Treasury Committee at a hearing.
"The reason is the stock of reserves, the deposits banks make with us. That's the highest form of bank liquidity. There is no question that the need for banks to hold larger cash reserves from a financial stability point of view is important."
"My view on this is that it's important from the point of looking forwards that the bank balance sheets adjusts so that it has headroom to do whatever we might need to do in the future."
Ramsden said he expected the impact on markets of unwinding QE — known as "quantitative tightening" — "will be small." Bailey stressed that QT was "not the active monetary tool" for tackling inflation, which is interest rates.