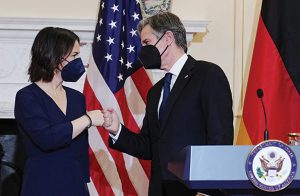 Bloomberg
Secretary of State Antony Blinken will meet with Russian Foreign Minister Sergei Lavrov in Geneva this week as the US ramps up its warnings that Moscow is prepared to attack Ukraine.
Blinken will press Russia to immediately de-escalate tensions on the Russian border with Ukraine, where Moscow has massed more than 100,000 troops and equipment, according to a State Department official who briefed reporters on condition of anonymity.
"Our view is this is an extremely dangerous situation," White House Press Secretary Jen Psaki told reporters on Tuesday. "We're now at a stage where Russia could, at any point, launch an attack in Ukraine. I would say that's more stark than we have been."
The meeting in Geneva on Friday will follow consultations with allies in Kyiv and Berlin intended to signal unity between the US and Nato partners after three days of diplomacy last week failed to clarify Russian President Vladimir Putin's intentions. The State Department official said the meeting with Lavrov shows that diplomacy can still resolve the months-long crisis, but Russia should move to reduce force levels on the border.
Amid a flurry of diplomatic meetings on both sides of the Atlantic, President Joe Biden held a conversation with Finnish President Sauli Niinisto on European security on Tuesday. The call covered "the serious tensions at the borders of Ukraine and possibilities for finding solutions," Niinisto's office said in an emailed statement.
The presidents had previously spoken last month. Niinisto, who has Putin's ear, has recently conferred with a number of leaders as tensions between Russia and western nations remain high.
Although Russian officials have rejected charges that they are planning to attack Ukraine, the Kremlin has used the crisis to demand guarantees that the North Atlantic Treaty Organization won't expand farther east and will roll back its military presence to positions held in 1997— before eastern and central European nations joined the alliance. US and Nato officials have rejected that demand as a non-starter.
On Tuesday, the US official said Nato is also alarmed at the apparent movement of Russian troops into Belarus, which would give it another option for attacking Ukraine. The US and European allies have vowed a "massive" package of sanctions targeting Russia if an attack proceeds, though it's not clear if there is unity on the range of measures that would come into force.
The US has been pressuring European allies to reach agreement on the specifics on those sanctions. For months the two sides have been working on a package that could include measures targeting Russia's largest banks and export controls on advanced technologies in key industries and high-tech goods.
At the White House, Psaki said no options have been taken off the table in those talks. Her remarks followed a report in Germany's Handelsblatt on Monday that the US and European Union are no longer considering the option of cutting Russia off from the Swift international banking payments system if it invades.
Ahead of his trip on Tuesday, Blinken spoke with Lavrov, stressing "the unshakable US commitment to Ukraine's sovereignty and territorial integrity," State Department spokesman Ned Price said in a statement.
Blinken is scheduled to meet with Ukrainian President Volodymyr Zelenskiy and Foreign Minister Dmytro Kuleba after arriving in Kyiv on Wednesday.
After departing Kyiv, Blinken will travel Thursday to Berlin, where he plans to meet with German Foreign Minister Annalena Baerbock, who on Tuesday met with Lavrov. Baerbock warned Lavrov that the Nord Stream 2 gas pipeline from Russia to Germany would be a target for retaliation if Russia uses energy as a weapon.