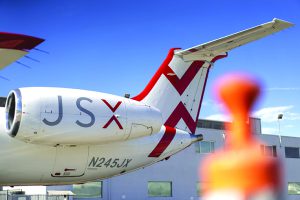 BLOOMBERG
Four of the US's five largest airlines are squaring off in a debate roiling the domestic aviation industry over the regulation of so-called public charter flights.
The issue has come to a head over the rapid growth of charter operators like Dallas-based JSX that compete with regularly scheduled flights from smaller, private terminals without long security and boarding lines. That growth triggered a federal review of the regulations governing those operators.
American Airlines Group Inc and Southwest Airlines Co support cracking down on safety and security standards, closing a "loophole" being used by JSX and others, while United Airlines Holdings Inc and JetBlue Airways Corp — which each own a stake in JSX — argue for keeping the status quo, since these carriers provide service to small communities and a pipeline for pilots.
JSX markets itself as "the ultimate travel hack" that lets flyers "ditch the traditional airport route and arrive at our crowd-free terminals just 20
minutes before takeoff."
The carrier does its own passenger screening it says is approved by the Transportation Security Administration (TSA). It can also hire pilots who don't have the minimum 1,500 flying hours required for large scheduled carriers, and ones who are older than 65, the mandatory retirement age at such airlines.
Critics say the charter operator — and others like it — are taking advantage of what they characterise as a regulatory loophole that lets them make scheduled flights under a less-stringent set of safety and security standards. The Federal Aviation Administration (FAA) launched a formal review in August, saying the expansion of such carriers is "an increased risk to safety if left unchecked."
Airlines, unions, airports, cities and travellers weighed in on the matter — pro and con — during a public comment period. The FAA and TSA have not specified when their assessments will conclude or what steps they might take. At stake is revenue from business travellers who often book late and pay higher fares, and well-heeled leisure passengers seeking to avoid airport crowds. The push for changes is "pure back room politicking done by competitors out of complete self-interest," JSX Chief Executive Officer Alex Wilcox has said.
"It ultimately becomes a competitive issue if they're successful," Robert Mann, president of aviation consultancy RW Mann & Co said of carriers like JSX. "They will claim more of these customers, and these are more of the high-value customers."
Elite Club
JSX, which uses a fleet of 48 30-seat jets with business class-like amenities, offers just 80 flights a day on average, a tiny fraction of the 6,700 operated by American and 4,166 at Southwest.
But the closely held company has carved out a lucrative niche in California, the Southwest and Texas — stronghold areas for its two larger rivals.
Other public charters identified by the FAA include Contour Airlines, which flies for American with some flights that can be booked on the larger airline's website; and Advanced Air, which offers flights in Arizona, California, New Mexico and Nevada. Aero also offers JSX-like service, focusing on the premium nature of its flights between Los Angeles, Aspen, Dallas and Los Cabos, Mexico, with aircraft seating up to 16.
JSX has waged a publicity campaign accusing American and Southwest of pressuring the government to crush its business model and deny the flying public more choices. The two larger airlines have denied any anti-competitive motive, saying they simply seek a uniform standard for regularly scheduled public flight operators.
A change in regulations wouldn't necessarily doom JSX or other charters, Mann said, pointing to industries like Uber Technologies Inc and Airbnb Inc that have adapted their business models to comply with new oversight. "They figured out how to make the game work with slightly different rules," he said.
In filings with the Department of Transportation, which oversees the FAA, Southwest warned public charters will continue to grow, encouraging other airlines to adopt the model and degrade public safety. Southwest's support for the FAA and TSA reviews is unrelated to losing customers, CEO Bob Jordan said in an interview.
"This is nothing to do with competition, it's not about JSX," Jordan said. "It's about ensuring the system is safe and there's one level about safety and security for all scheduled carriers."
American CEO Robert Isom, who has said little publicly on the issue, echoed those concerns at an employee meeting last month.
"We're going to be competitive against whoever comes out," Isom said, according to a recording of the meeting reviewed by Bloomberg. "One place I do draw an issue with is when the rules aren't the same. If you don't have to deal with the same DOT provisions, the same FAA provisions, the same security TSA provisions, that's not fair."
In private, American executives see JSX as a threat to poach premium passengers on some of its routes. Eventually, the luring of these passengers by rapidly growing JSX could become a significant problem, according to these officials, who asked not to be identified but are familiar with the matter.
JetBlue wrote a letter to the FAA and US Department of Transportation urging them "not to be distracted or swayed by pressure from self-interested parties, including those who view JSX as a competitive threat."
United invested in JSX in 2022 and JetBlue expanded its stake in 2018. None of the companies have disclosed the size of their stakes. Passengers can book some of the charter company's flights through the larger US airlines' websites, and earn loyalty plan credits.
United declined to comment for this story beyond its filings with the DOT, while JetBlue didn't respond to a request for comment. In its filing, United said there should be no doubt JSX offers "safe and reliable service" as well as enabling flights to smaller communities and providing a training pipeline for pilots.
JSX flies out of a facility at Love Field airport, where Southwest dominates service and which is favored by some business travellers because of its close proximity to downtown Dallas.