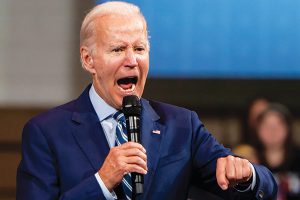 Bloomberg
President Joe Biden and congressional Democrats are making a pre-election push for legislation targeting so-called dark money groups, despite the party's own heavy reliance on these anonymous donors.
The legislation, which would require disclosures of large political donations, is almost certain to fail amid strong GOP opposition. But it gives Democrats a chance to make a political point less than two months before the midterm elections that will determine control of Congress.
Conservative and liberal groups alike are increasingly leveraging these anonymous donations to influence congressional elections. Democrats say the two parties should work together to expose the funders of these influence campaigns, but Republicans have cited concerns about donors being harassed or otherwise influenced. "I believe sunlight is the best disinfectant, and I acknowledge it's an issue for both parties," Biden said Tuesday. He said foreign entities also use dark money to buy ads and said he hopes Republicans will come around. "Dark money erodes trust," he added.