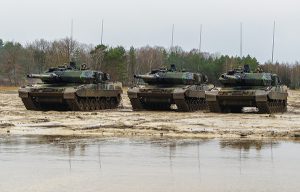 Bloomberg
Latvia's top envoy criticized Germany over its indecision on whether to send Ukraine the Leopard 2 tanks, saying there are no longer any "good arguments" not to give Kyiv the heavier weapons it demands.
The three Baltic nations — Latvia, along with Estonia and Lithuania — were expected to reiterate calls for Germany to send the tanks when the bloc's foreign affairs chiefs gather in Brussels on Monday, after the countries issued a joint statement over the weekend.
"At this point there are no good arguments saying why battle tanks, why air defense systems can't be provided," Latvian Foreign Minister Edgars Rinkevics told reporters ahead of the meeting. "The argument of escalation doesn't work because Russia keeps escalating."
The Latvian envoy added that "in order to restore peace in Europe, now we need to provide whatever it takes, whatever means possible to Ukraine, including battle tanks," saying the next few weeks could be "decisive." Ukrainian officials have warned Russia could launch a full-scale offensive this spring.
Germany, the US and other allies met at Ramstein Air Base last Friday to discuss assistance for Ukraine, including the provision of heavy weapons. But the meeting ended without a clear decision on the provision of Germany's Leopard battle tanks to Ukraine, including whether it would allow other allies who own them to re-export them to Kyiv.
Berlin has previously been reluctant to send tanks and other modern systems on concerns it could escalate the war in Ukraine and drag in Nato allies.
Polish Prime Minister Mateusz Morawiecki said Monday that his country will eventually apply for Germany's permission to donate Leopard tanks, but called it a "secondary issue." The government in Warsaw is working on "a small coalition" of countries that would deliver the tanks to Ukraine no matter what Germany decides, he told reporters in Poznan, western Poland.
Arriving at the Brussels meeting, German Foreign Minister Annalena Baerbock didn't repeat her comments made late Sunday to French television that Germany wouldn't "stand in the way" if Poland opted to deliver Leopard tanks to Ukraine – and didn't respond to a question on whether the statement had the support of Chancellor Olaf Scholz.
"Putin hasn't turned from his murderous plan to destroy Ukraine," Baerbock told reporters. "That's why it's so important that we as the international community do everything to defend Ukraine, so that Ukraine wins." Allies must "move together" to protect Ukraine, she said.
Still, Germany's new defense minister, Boris Pistorius, said on Friday that Berlin could move quickly if an agreement is reached and added that countries could start training Ukrainian soldiers on the vehicles. A decision about possibly sending main battle tanks to Ukraine could come within the next few days, he added.
With Ukrainian and Nato officials expecting a possible Russian offensive this spring, Kyiv has been pleading for Germany and allies to send the modern battle tanks, which could help Ukrainian forces both to defend their territory and to regain it by breaking through Russian front lines. Modern tanks, versus the Soviet era ones some allies have previously sent, also operate with western ammunition, which is more plentiful — an important advantage as Ukraine's and allies' stocks of shells run low.
While the UK has pledged to send around a dozen Challenger tanks, Germany's Leopard 2 tanks in particular are in the spotlight due to their sheer quantity. European allies own hundreds of them in different varieties, which could spread the burden across a greater number of countries.