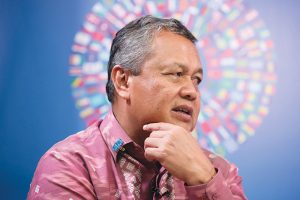 BLOOMBERG
Indonesia said Perry Warjiyo, who steered the Southeast Asian economy's monetary policy through the pandemic years, will continue as central bank governor for a second term.
His appointment was approved by a parliament commission on Monday, after he was named the lone candidate by President Joko Widodo. A second term at Bank Indonesia will allow Warjiyo, 64, to continue to guide a sustained recovery in Southeast Asia's largest economy while returning inflation to target. Policy continuity is paramount, especially amid a turmoil in the global financial system and rising economic uncertainty.
Earlier, Warjiyo said he will press on with his monetary policy direction of price and currency stability for sustainable growth.
"Front-loaded, preemptive, and forward looking" monetary policy will be used to maintain stability amid the ongoing global volatility, while macroprudential measures will be kept loose to support lending and economic recovery, Warjiyo said in his fit-and-proper test in front of lawmakers on Monday.
Warjiyo highlighted his credentials in navigating multiple crises when he was evaluated for his second and last five-year term as monetary authority chief. He said Indonesia has emerged relatively unscathed from the US-China trade war, the coronavirus pandemic, the Russia-Ukraine war and today's era of high inflation, noting that economic growth averaged 3.4% and inflation 2.9% since he first took the post in 2018.