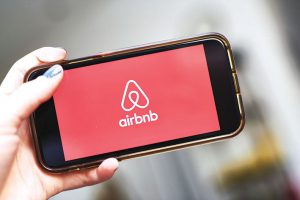 Airbnb Inc. shares fell after the company gave a disappointing outlook for bookings in the fourth quarter, suggesting that consumer preferences are shifting away from higher cost rentals that thrived during the pandemic and back to urban and the cross-border destinations.
The San Francisco-based home-sharing platform said it expects the pace of nights and experiences booked will "moderate slightly" in the fourth quarter compared with the third quarter's gain of 25%. Airbnb reported 99.7 million nights and experiences booked in the three months ended in September, falling short of analysts' estimates of 99.9 million.
The shares fall about 6% in premarket trading before exchanges opened in New York. The stock rose 2% to close at $109.05 in trading and had declined 35% this year.
Airbnb also said it expects average daily rates to moderate this quarter due to a strong dollar and a shift in people heading back to cities, which tend to have lower rates based on smaller-sized accommodations. The company forecast fourth-quarter revenue of $1.80 billion to $1.88 billion, with low end of that range below Wall Street's estimate of $1.86 billion.
The muted outlook comes after Airbnb recorded its highest revenue and most profitable quarter yet over the summer. Revenue jumped 29% in the third quarter to $2.88 billion and the company earned $1.2 billion in net income, topping analysts' estimates.
The third quarter had been expected to be a blowout season, as Chief Executive Officer Brian Chesky and other industry executives banked on pent-up summer travel demand after two years of Covid-19 restrictions. Indeed, travelers seemed to swarm hot tourist destinations despite disruptions at airports and flight cancellations that jacked up ticket prices.
Airline companies from Deutsche Lufthansa to American Airlines and United have predicted a sustained rebound in travel from an early pandemic slump.
Airbnb said said the average daily rate for a rental increased 5% in the third quarter from a year earlier. The boost was entirely driven by price appreciation, the company said, which more than offset some negative impact from a shift back toward urban destinations and other bookings.
But travellers may draw a line at rising prices and some hosts are already starting to see a pullback in bookings for the rest of the year. That could be due to inflation, which is running at a 40-year high in the US.
—Bloomberg