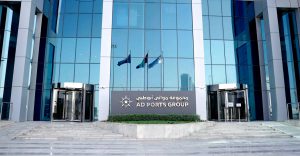 ABU DHABI / WAM
AD Ports Group on Tuesday released its 2022 Integrated Annual Report with the Abu Dhabi Securities Exchange (ADX), following a successful year that included a listing on the ADX which was heavily oversubscribed. AD Ports Group continued to expand its global presence and service offerings, as well as launching new trade routes to improve global trade connectivity.
The group reported strong
operational and financial performance, with a revenue growth of 41% year-on-year, reaching AED 5.5 billion. Additionally, as part of its ambitious growth strategy, the group completed seven MandA transactions in 2022 with a total value of AED 5.9 billion.
The vertically integrated business model of AD Ports Group, which includes Economic Cities and Free Zones, Ports, Maritime, Logistics, and Digital Clusters, has enabled the Group to contribute significantly to the non-oil GDP of the UAE and Abu Dhabi. According to Oxford Economics, the group contributed 13% of the UAE's non-oil GDP and 24% of Abu Dhabi's non-oil GDP in 2022, and has created over 373,000 jobs in the UAE.
Falah Al Ahbabi, the Chairman of AD Ports Group, commented, "The AD Ports group has firmly established itself as a leading international trade facilitator and a fully integrated provider of global trade logistics and transport solutions, due to its exceptional year of strategic, geographical, and financial expansion."
Al Ahbabi added, "Moving forward, the group is in an exceptionally strong position and well-prepared to expand its business globally, with plans to achieve substantial growth across all its divisions. As part of the UAE's visionary leaders' socio-economic objectives, the group is committed to maximising its contributions to national economic development, job creation, and its standing on the international stage, while also creating value for its shareholders."
AD Ports Group annual report highlights several significant accomplishments, acquisitions, and agreements made in 2022 that have extended its global reach.
Additionally, the group's shares have yielded over 80% returns for shareholders in the past year, making it one of the top three performing stocks in the region.
Capt Mohamed Juma Al Shamisi, Managing Director and Group CEO, AD Ports Group, said, "The year 2022 marked a significant turning point for AD Ports Group as we delivered exceptional financial results and strengthened our position as a leading integrated supply chain solutions provider and gateway to Abu Dhabi and the region's thriving economies. This outstanding performance during a time of unprecedented global uncertainty is a testament to the UAE's wise and visionary leadership."
Al Shamisi added, "Moving forward into 2023, we plan to leverage the momentum of our accomplishments in 2022 to deliver continued value to our shareholders. Our strategic focus will be on expanding our global reach and enhancing our operations in vital shipping, logistics, and ports sectors."
AD Ports Group expanded its global footprint through various acquisitions, including a 70% stake in Egypt's Transmar and TCI, an 80% stake in Global Feeder Shipping (GFS), and the 100% acquisition of Noatum. The Group also launched the Kezad Group, a conglomerate of 12 economic zones that span 550 square kilometers, making it one of the largest economic zones in the world. Khalifa Port also extended its area from 2.43 square kilometers to 8.63 square kilometers and increased its quay wall from 2.3 kilometers to 12.5 kilometers, making it one of the most advanced deep-water ports globally.
AD Ports Group strengthened its global presence by signing contracts with the Red Sea Ports Authority for port projects in Egypt and partnering with SEG to establish logistics and freight businesses in Central Asia.
The year's financial highlights included a 41% year-on-year revenue growth to AED 5.5 billion (+23% year-on-year to AED 4.8 billion organically), a total net profit of AED 1.3 billion in 2022 (+51% year-on-year), and an increase in earnings per share (EPS) to AED 0.25 for the full year in 2022, up from AED 0.22 in 2021.