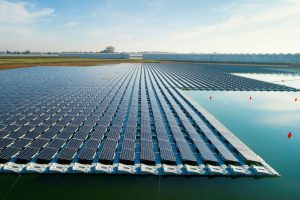 ABU DHABI / WAM
Abu Dhabi Future Energy Company PJSC – Masdar, and PLN Nusantara Power (PLN NP), have signed an agreement to develop Phase II of the successful Cirata floating photovoltaic (FPV) power plant in Indonesia by up to 500MW, in a major expansion to Southeast Asia's largest FPV plant.
The signing ceremony was witnessed by UAE Minister of Energy and Infrastructure Suhail Mohamed Al Mazrouei; Indonesia's Minister of Defense Prabowo Subianto; and Indonesia's Coordinating Minister of Maritime and Investment Affairs Luhut Binsar Pandjaitan.
Also in attendance were the UAE Ambassador to Indonesia and ASEAN Abdulla Salem Obaid Al Dhaheri; and Indonesia's Ambassador to the UAE Husin Bagis. The ceremony was held at the UAE-Indonesia Economic Forum hosted by the UAE Embassy of Indonesia to deepen the clean energy partnership between the two nations.
The initial 145MW phase of the innovative floating PV project, located in the picturesque Cirata reservoir in West Java, Indonesia, is expected to come online later this year. A recent regulatory development from the Ministry of Public Works and Housing in Indonesia now allows up to 20% of water coverage for renewable energy uses which will open up the Cirata expansion to a further 500MW, in addition to the 145MW expected to be operational this year.
The UAE Minister of Energy and Infrastructure said, "The UAE and Indonesia share a common vision of achieving sustainable development and realize that renewables are at the heart of this vision. I am pleased to see that this partnership has been taken to the next level. Such partnerships feed into our priorities for COP28, where the energy transition will be front and center with a concerted push to triple renewable energy capacity by 2030."
The UAE Ambassador to Indonesia commented, "As we host the UAE-Indonesia Economic Forum, it is a pleasure to witness Indonesia and the UAE demonstrating to the world our collective leadership in climate action, showcasing innovation that benefits both the environment and the economy in supporting the global energy transition."
Indonesia is a key strategic market in Southeast Asia for Masdar with an expanding portfolio of interests. Masdar developed the region's largest floating solar facility, the 145 MW Cirata floating solar PV plant (Cirata Phase I) in a joint venture with PT PJB, now PLN NP. In February 2023, Masdar entered the geothermal energy sector through a strategic investment in Pertamina Geothermal Energy (PGE). Masdar also opened an office in Jakarta, Indonesia, in 2021 to further strengthen links with key players within the region.