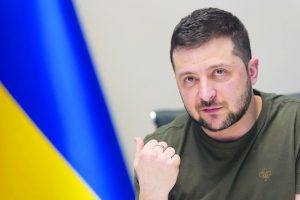 BLOOMBERG 
Ukrainian President Volodymyr Zelenskiy suggested his country was losing control of Bakhmut after months of fierce fighting but downplayed Russian claims it now fully occupied the eastern city.
"Today our people are performing an important task — they are in the Bakhmut, Zelenskiy said in Japan where he had met with leaders from the Group of Seven nations and other invited guests. "I will not share the points where. Bakhmut is not covered by the Russian Federation, there must not be multiple interpretations."
Russia claimed that the Wagner mercenary group had taken Bakhmut, with the Defense Ministry saying in a statement that the forces "completed the liberation of the city." Asked earlier by a reporter during a meeting with President Joe Biden if Bakhmut was still in Ukrainian hands, Zelenskiy said: "I think no." But his spokesman Serhiy Nykyforov later said journalists misunderstood the comment.
The to and fro reflects the confusion that has reigned over Bakhmut for months, with frequent claims by both sides that the other was losing ground. Either way, the city is now in ruins.
"But for today, Bakhmut is only in our hearts. There is nothing," Zelenskiy said, referring to the devastation the fighting has caused.