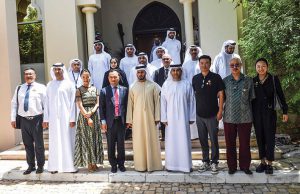 ABU DHABI / WAM
Sheikh Zayed bin Hamad bin Hamdan Al Nahyan, Vice Chairman of the Emirates Arabian Horse Society (EAHS), and Mohammed Al Harbi, Director-General of the EAHS, received a delegation from the Chinese Arabian Horse Association.
During the meeting, the delegation learnt about the UAE's leading experience in caring for Arabian horses and offering high-quality services to owners, breeders and exhibitors.
They also learnt about the various local and international events and competitions hosted by the UAE under the guidance and support of His Highness Sheikh Mansour bin Zayed Al Nahyan, Vice President, Deputy Prime Minister and Minister of the Presidential Court, who is the Chairman of the Board of Directors of the EAHS.
The delegation's visit was aimed at strengthening their collaboration in training Chinese horse handlers and exhibitors and learning from the experience of the EAHS in registering and documenting Arabian horses. It also aimed to discover opportunities for cooperation in holding Arabian horse championships, auctions, forums and exhibitions.
The Chinese delegation was keen to purchase the best-bred Arabian horses from the UAE to improve their industry and organise international championships for Arabian horses. Following the guidance of its leadership, the UAE has enhanced its leading role in promoting Arabian horses, which are a key part of the Emirati identity, Sheikh Zayed bin Hamad said.
An official from the Chinese Arabian Horse Association and Organiser of the China International Arabian Horse Festival, invited Sheikh Zayed bin Hamad to attend the festival, which will be held in Xianyang in September. The delegation hoped to learn from the UAE's rich experience in Arabian horse breeding and management and apply it in China, he said, noting that Arabian horses are associated with the Middle East.
The UAE is a popular destination for Chinese people, as it has considerable international experience in Arabian horses, organises Arabian horse beauty contests with the most prestigious and high-quality prizes, and participates actively globally, he further added.