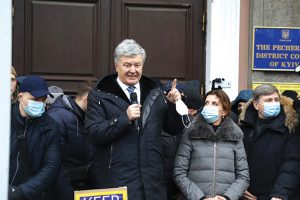 Bloomberg
Former Ukrainian President Petro Poroshenko was released on his own recognizance by a court during a treason investigation that has ratcheted up political tension as the country confronts Russian troops amassing on its eastern border.
The decision by the Kyiv court followed Poroshenko's return from abroad on Monday to face charges over allegations he facilitated coal deals last decade with pro-Russian separatist enclaves in the country's East.
It also coincided with the arrival of US Secretary of State Antony Blinken in Kyiv on Wednesday for talks as Ukraine's western allies warned of a potential invasion orchestrated by Russian President Vladimir Putin.
Poroshenko denies the accusations, calling the charges a political attack by President Volodymyr Zelenskiy's administration.
"Zelenskiy is my opponent, Putin is the enemy," Poroshenko told reporters after the ruling. "We're not celebrating because I firmly state these are elements of a hybrid war aiming to intimidate Ukrainians and reduce our capacity for resistance."
According to the ruling, Poroshenko had to surrender his passports, must not leave the Kyiv region and must comply with summons from the court until March 19. A court previously ordered the seizure of his assets, including real estate and companies listed in the state registry.
Poroshenko, who is worth $860 million according to the Bloomberg Billionaire Index, and leads a party in opposition to Zelenskiy's government, could face up to 15 years in prison if he is convicted.