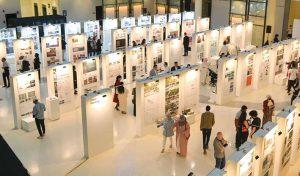 SHARJAH / WAM
The College of Architecture, Art and Design (CAAD) at American University of Sharjah (AUS) will present its annual senior showcase Six Degrees from June 9-16 at Dubai Design district (D3), featuring creative work by more than 100 graduating students across the disciplines of architecture, interior design, design management, multimedia design, visual communication and urban planning.
Six Degrees marks a significant milestone for all CAAD graduates, many of whom launch their careers from the exposure to industry leaders and employers throughout the week-long event.
Dr Varkki Pallathucheril, Dean of CAAD, said, "This has been a year of both looking back at what we have achieved as a college and a design community over the past 25 years, and looking ahead to the future of design education and the expanding dynamic of the design profession."
"As we have considered these things, I believe that this is an exciting time for our graduates to be entering the workforce. Opportunities in the region are growing. We are confident that they are ready to impact the design industry, applying the knowledge, skills and sensibilities they have acquired and honed through practice in their various disciplines."
Among the members of the AUS Class of 2023 who will officially graduate on June 10 is award-winning Emirati architecture senior Alzaina Lootah, recipient of the 2022 Sheikh Khalifa scholarship. "It is an honour to be a graduate of American University of Sharjah, holding one of the most recognised and prestigious degrees in the region," said Lootah.
"Six Degrees is a special event that every student from the College of Architecture, Art and Design awaits for before officially graduating. It is a way to honour the hard work, constant contribution and dedication of students through their academic journey. It is also a way to recognise our great faculty members who are the backbone of the college. Six Degrees is a great way for us as graduates to showcase our work to the general public and celebrate the great achievements and successes throughout our years at the college," she said.