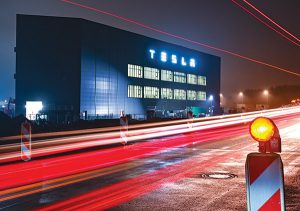 Bloomberg
Tesla Inc. reported better-than expected profits in the latest quarter, even as it gave mixed signals on the outlook for growth in vehicle deliveries.
The EV market leader said it would increase output "as quickly as possible" — in line with previous guidance for average annual growth of 50% over multiple years. However, Tesla said it's on track to deliver about 1.8 million vehicles this year, which would represent a production jump of about 37%.
On a call with analysts, Chief Executive Officer Elon Musk said that outlook is conservative, saying that production could be closer to 2 million vehicles without unexpected disruptions. He sought to dispel questions about consumer demand for Tesla vehicles as the company ramps up production.
"The most common questions we've been getting from investors is about demand. So I want to put that concern to rest," Musk said, adding that Tesla is currently seeing orders at almost twice the rate of production following dramatic price cuts. "Demand will be good despite probably a contraction in the automotive market as a whole," he said.
The automaker has become something of a bellwether for the global auto market as its deliveries grow and much of the industry shifts toward making battery-powered vehicles. It now has four auto plants on three continents, including its newest plant in Austin.
The Austin, Texas-based company reported adjusted earnings of $1.19 a share, besting the $1.12 a share average estimate of analysts compiled by Bloomberg.
Tesla roughly doubled its production capacity in 2022. Its annualized production estimate for the fourth quarter was a new record, and near the company's total production capacity for the first time.
Tesla also confirmed it's still on track to start building the long-awaited Cybertruck in Austin later this year, with more details of its next-generation vehicle platform planned at an investor day on March 1.
Musk highlighted that Cybertruck production won't happen at volume until 2024. That gives rival vehicles more time to enjoy a first-mover advantage in the nascent electric truck market, including Ford Motor Co.'s F-150 Lightning and Rivian Automotive Inc.'s R1T.
Tesla's fourth-quarter revenue was $24.3 billion, slightly topping market expectations. Gross automotive margins, however, were 25.9%, below analysts' average estimate of 28.4% — a sign of potential concern for investors following a recent round of price reductions. In the year-earlier period, the gross automotive margin was 30.6%.
On the call, Musk said that 2022 was a difficult year due to shutdowns at Tesla's China factory, higher borrowing costs and logistical issues. He added that the company's recent price cuts were need to make car more affordable to mass-market buyers.
Regulatory Credits
Income from the sale of regulatory credits — used by other automakers to offset greenhouse gas emissions — came to $467 million, up from $286 million in the prior quarter and $314 million a year ago. Tesla has said it expects such revenue to shrink over time as competitors launch more EVs to comply with emissions regulations and meet growing demand.
Musk's comments on Wednesday were his first session with analysts since he bought Twitter Inc. for $44 billion in late October. His move to fund that acquisition in part by selling shares of Tesla has weighed on the stock, which has fallen 53% over the past 12 months.