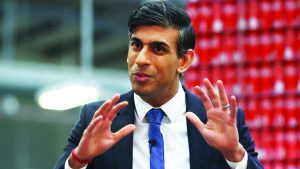 BLOOMBERG
Rishi Sunak will give UK lawmakers a chance next week to vote on new post-Brexit trading arrangements for Northern Ireland, as the prime minister seeks to crystallise his agreement with the European Union (EU).
Regulations to bring in the so-called Stormont Brake — the portion of the new deal giving Northern Ireland's lawmakers a potential veto over changes to EU rules — will be put to a vote next Wednesday, Leader of the House of Commons Penny Mordaunt said on Thursday.
Sunak struck the new deal — called the Windsor Framework — just over two weeks ago, aiming to end years of acrimony with the EU over Northern Ireland's trading arrangements. He promised at the time he'd ensure Members of Parliament got a vote on it.
Since then, all eyes have since been on Northern Ireland's Democratic Unionist Party (DUP) and hardline Brexiteer members of Sunak's own Conservatives for signals as to whether they'll give the deal the nod.
Those groups have yet to give a definitive verdict on the matter, but DUP leader Jeffrey Donaldson said earlier this week that changes are still needed, while hailing the "significant progress."
Tory right wingers in the party's European Research Group, for their part, have put the deal for examination by a so-called "star chamber" of lawyers. That "detailed legal audit" will be completed before next Wednesday, ERG Chairman Mark Francois said on Thursday in a statement.
"Members of the group will no doubt pay close attention to the Star Chamber's conclusions, prior to any vote," Francois said.
DUP leader Jeffrey Donaldson called for changes to parts of the deal between the UK and the EU on Northern Ireland's post-Brexit arrangements, raising fresh doubts about the prospects for a resumption of power-sharing in the region.
In an interview with Bloomberg TV, UK Foreign Secretary James Cleverly called for the DUP to accept the deal.