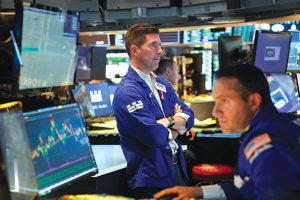 Bloomberg
European shares advanced, boosted by oil majors as crude prices recovered. US futures gained as investors parsed comments from Federal Reserve officials to assess the potential for slower interest rate hikes.
The Stoxx Europe 600 Index climbed 0.7%, with Shell Plc and BP Plc among the biggest drivers of the gains. Contracts on the S&P 500 and the Nasdaq 100 were both higher, reversing earlier losses. In US premarket trading, Zoom Video Communications Inc. fell after reporting slower sales and trimming its full-year revenue forecast.
The dollar weakened against all major currencies and Treasury yields declined. Oil advanced after Saudi Arabia pushed back against reports of a potential OPEC+ production increase.
Fed officials have broadly maintained their steadfast stance to fight against inflation. Yet San Francisco Fed President Mary Daly also said that officials need to be mindful of the lags in the transmission of policy changes, while her Cleveland counterpart Loretta Mester said she's open to slowing the tempo of rate hikes.
"In a year like this, it is so difficult and often a fool's errand to read too much into any one speech from one Federal Reserve official," Sarah Ponczek, financial adviser at UBS Private Wealth Management, said on Bloomberg Television. "The reality is that we do expect that the Federal Reserve is still likely going to raise interest rates again in December."
JPMorgan Chase & Co. strategist Marko Kolanovic, who until recently had been one of the most vocal bulls on Wall Street, said risky assets may languish until the Fed reverses course on its hawkish campaign to raise interest rates. A near-term pivot is likely not in the cards and JPMorgan expects assets to still be "rangebound with a more pronounced downside risk."
In Asia, a gauge of the region's equities was off its intraday highs as stocks in Hong Kong slid with China's daily virus infections climbing to near the highest on record. Covid-control restrictions now affect a fifth of China's economy. Chinese stocks listed in the US fell in premarket New York trading.
China's reopening may only be a story for the second quarter of next year as the country enters the winter months, according to Dwyfor Evans, head of Asia Pacific macro strategy at State Street Global Markets.
"To actually expect a very conservative political body to suddenly open up China and remove restrictions in November and into the most dangerous season as it were for these type of pandemic instances, we always thought that was very, very optimistic," Evans said on Bloomberg Television.
Gold rose on the weaker dollar. Cryptocurrency prices were mixed, with investors braced for more ructions as further digital-asset sector bankruptcies loom following the demise of Sam Bankman-Fried's FTX empire.