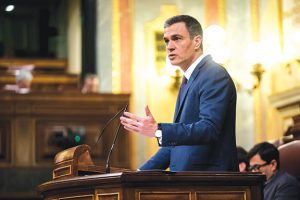 Bloomberg
Spain grew more than anticipated in the final quarter of last year, indicating the euro zone's fourth-largest economy is on track to avoid a recession even as high inflation squeezes household spending.
Output rose 0.2%, according to data from the INE statistics agency published on Friday. That matches the pace in the previous quarter and exceeds the 0.1% median forecast of economists surveyed by Bloomberg. It puts 2022 growth at 5.5%, maintaining the previous year's momentum.
Socialist Prime Minister Pedro Sanchez, who is widely expected to run for re-election this year, has pumped billions of euros into the economy in an effort to tame inflation, and shield households and businesses. The pace of price increases has eased by almost half from its July peak to 5.5% as energy costs decline.
Although growth slowed sharply in the second half of 2022, it has held up more than expected only a few months ago when most polls pointed to two consecutive quarters of contraction.
"This confirms the strength and resilience of the Spanish economy," Sanchez wrote in a Tweet in which he defied what he called "the prophets of the apocalypse."
Still, the higher-than-expected quarterly growth figure masks signs of weakness, according to Angel Talavera, head of European economics at Oxford Economics.
He pointed to a decline in household spending, which fell 1.8% in the fourth quarter from the previous three months, according to INE.
"The number initially is positive because it confirms that Spain will avoid a recession, but when you look at the details the data doesn't look very good," he said. "Most of the improvement comes from a decline in imports, which is never a good sign. I'm surprised by the decline in consumption because slowing inflation should suggest stronger spending."
Inflationary pressures in Spain, which is the largest beneficiary of funds from the EU Recovery and Resilience Facility after Italy, are expected to keep growth subdued, with the economy likely to expand only 1.1% this year, according to the International Monetary Fund's latest estimates.