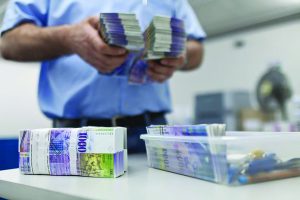 BLOOMBERG 
More than half of all Swiss cash in circulation, almost 50 billion francs ($56 billion), is held in 1,000-franc bills, though a significant part of those notes might be in other countries, according to Swiss National Bank (SNB) Vice President Martin Schlegel.
"We assume that a good portion is also circulating abroad and is used to store value," Schlegel told Die Volkswirtschaft. "This is a compliment and a vote of confidence in Switzerland and the SNB: People trust that our money will keep its value."
The 1,000-franc banknote is one of the world's highest-denomination bills. In the neighbouring euro area, the perception that high-value paper money aids criminal activity led the European Central Bank (ECB) to stop issuing its own €500 bill in 2019. The SNB has said that it has no plans to discontinue its largest note.
The overall value of Swiss bills has "strongly increased" to more than 90 billion francs half a year ago, Schlegel added. This means that cash use rebounded from a slump after Switzerland's central bank lifted interest rates back into positive territory last September. In October, the total stood at 81 billion francs, Schlegel said previously.
Schlegel voiced confidence that consumers will continue to use cash even as digital payment methods become more popular. He is critical of measures for making bills and coins more attractive, like forcing shops to accept cash or subsidising ATM installations. Still, while cash use increased when SNB's benchmark was below zero, the rate of -0.75% didn't trigger large-scale withdrawals of deposits, he told the academic magazine publishes by the economy ministry.
"We could have lowered interest rates even further," Schlegel said.