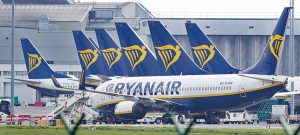 Bloomberg
Ryanair Holdings Plc expects to report a wider full-year loss than previously forecast after the emergence of the omicron Covid-19 variant plunged the European travel industry into renewed uncertainty.
The Irish low-cost airline now anticipates a net loss of between 250 million euros ($283 million) and 450 million euros in the 12 months through March, it said in a statement. The carrier had previously guided towards a figure of between 100 million euros and 200 million euros.
"The omicron Covid variant and recent government travel
restrictions across Europe have
notably weakened close-in Christmas and New Year bookings," said Ryanair, which wil cut January capacity by 33%.
Ryanair is the latest travel firm to downgrade its outlook as the new variant of the coronavirus derails latest hopes of a travel
recovery. London's Heathrow Airport said that passenger numbers would likely amount to barely half of pre-pandemic levels next year.
The UK headed into Christmas while battling surging levels of the coronavirus, with daily infections breaching the 100,000 mark. While the British government has held off on imposing tougher curbs domestically, some other countries have already acted to block British arrivals.
Ryanair said the ban on UK travellers to France and Germany had a particular impact on its demand expectations, as did the suspension of European Union flights to and from Morocco. The company now sees December traffic at 9 million-9.5 million passengers, versus 10 million-11 million previously.
Ryanair's full-year traffic forecast is likely to be just under 100 million passengers compared to the previous guidance of just over 100 million, the airline said.
The airline has not yet decided on any schedule cutbacks for February or March 2022, but will reconsider next month "as more scientific information becomes available," Ryanair said.